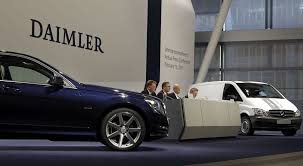 After Daimler expressed caution about 2016's prospects, some analysts reckoned the company's message was misunderstood, there was fall in the shares of the company on the Frankfurt stock exchange.
Clocking slightly above expert expectations, Daimler had earlier reported earnings before interest and tax (EBIT) rose 36 per cent in 2015 to 13.81 billion euros, about $15.4 billion, compared with 2014. Daimler makes Mercedes luxury cars as well as trucks and buses.
Sales and EBIT growth for the year 2016 was likely to be slower than last year, Daimler said. There was an immediate slump in the shares pof Daimler in Frankfurt and at trading 60.36 euros, the shares were close to five per cent lower after a couple of hours trading.
The forecast for the company for 2016 was interpreted as weak by Morgan Stanley. In a report on the issue, Morgan Stanley said that this guidance of slight growth "is rather subdued versus expectations not long ago. The agency said that the world is a much more uncertain place.
Daimler's results and guidance were in line with consensus, but it was surprised by the significantly lower free cash flow forecast reflecting upcoming heavy investment in new technology, said investment researcher Evercore ISI. For 2016, Mercedes is expected to record a profit margin at or above 10 per cent.
Daimler's forecast implied 2016 sales of between 149.5 and 156.9 billion euros ($167 billion to $175 billion) and EBIT of between 13.8 billion euros and 15.2 billion ($15.4 billion and $17 billion) with a profit margin of between 9.2 and 9.7 per cent, said Commerzbank analyst Sascha Gommel.
"The company should (also) show good earnings momentum in 2016. We believe the guidance has been misunderstood and we expect the shares to recover," Gommel said in a report.
There is expected global growth in the sale of cars and light vehicles for the industry as a whole between three and four per cent in 2016, Daimler said. While growth rates in Western Europe and the U.S. are likely to be significantly lower than the substantial growth of recent years, the strongest growth is expected in Asia, especially China.
"We look positively into the year in China. The market forecast is for eight per cent growth and we believe we can achieve market share gains," said Daimler CEO Dieter Zetsche as quoted by Reuters.
Among the major German car makers, Daimler is the first to report earnings for 2015 and comment on prospects for 2016. A recent report, from Bernstein Research said that the virtuous profit circle of recent years, led by massive China profits, capacity shortages and easy credit may be coming to an end and this has possibly made the investors to get a bit nervous.
While new technology, connectivity and autonomous driving suggests that new entrants might be about to pounce, the world of auto manufacturing is also likely to be shaken to its core by harsh new regulations on fuel economy and the environment.
(Source:www.forbes.com)