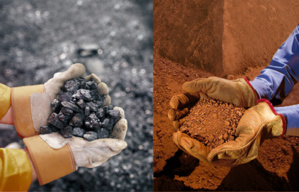 As reported by Bloomberg, the forecast of nickel prices for 2015 has been lowered by 23% - down to $ 14,815 per ton, the forecast cost of copper - by 16%, to $ 5,945 per ton.
Price forecasts for iron ore and coal are degraded by 28% and 16%.
- Instead of a decent show a seasonal increase in trade volumes in the first quarter of this year, the Chinese metalworking sector remains sleepy, - stated in the review of Morgan Stanley.
- Up to average annual peak sales in the manufacturing industry is still a in few months, and China already has fewer opportunities to support the growth of prices for raw materials in 2015 ".
The average cost zhelrudy this year will be $ 57 per tonne, experts predict the bank.
The average price of iron ore this year will be $ 57 per tonne, predicts the bank.
- Obviously the loss of investor confidence in China reinforces a negative impact on market factors such as the continued growth of production iron ore in Australia, - the experts noted in the review.
The Bank forecasts that steel production in China this year will decrease by 0.5%.
Commodity prices continue to run down on the ground of decline in the cost of production in the fall of oil prices and the strengthening of US dollar, as well as due to the weakening demand in China.
Bloomberg Commodity Index, which tracks the prices of 22 kinds of commodities, fell to its lowest level in 12 years on March 18.
The pace of economic growth in China last year slowed to the lowest in more than 20 years, and the government of the country worsened GDP growth target for the current year.
Reduction of copper imports by China in February this year was the highest in 4 years, soybeans import fell to the lowest since October, the volume of imports of oil and iron ore were the weakest in three months.
Meanwhile, PMI in the processing industry of China fell in March to 49.2 points - a minimum of 11 months, according to statistical data released Tuesday.
Nickel prices on the LME on Tuesday fell by 2.2%; zinc, aluminum, lead and tin are also getting cheaper.
The cost of copper for delivery in three months is stable in the course of the auction and being kept at $ 6,120.5 per ton.
Quotes contracts for iron ore with 62% content of iron delivery in the Chinese port of Qingdao on Monday numbered $ 54.81 per ton.
Since the beginning of this quarter's price fell by 23%, and on Friday, it fell to $ 54.66 per ton - the lowest level since May 2008.

source: bloomberg.com