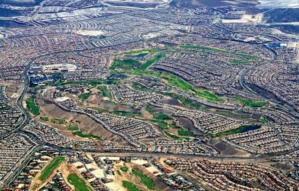 Everybody agrees to the fact that they are an environmental disaster, they are horribly ugly and that they are an inconvenience and yet the "urban sprawl" is slowly but steadily keeping its death grip on cities and moving towards more rural areas. Todd Litlam from the
Victoria Transport Policy
in British Columbia, says this is typically reflective of smart growth – or the lack thereof.
"Much of the motivation for middle-class households to move from cities to suburbs was to distance themselves from lower-income households that cannot afford single-family homes and automobile transportation. Over time, anybody who could, left, resulting in economically-disadvantaged households concentrated in urban neighbourhoods," says Todd Litlam.
The list of issues associated with this phenomenon is quite impressive. Starting from reduced public health and fitness, increase in accidents, traffic, pollution, congestion, transport costs, service cost, reduced accessibility to non-driving population, decrease in ecological productivity and in the area of cultivated agricultural land. As per analyses prepared by the Victoria Institute and
LSE Cities
, released by the
New Climate Economy
, this creeping phenomena is costing the US more than $400 billion in external costs and $625 billion in internal costs, annually.
It also plays a role in increasing the gap between poor and well-off communities. Research shows that the increased disparity between the two communities feeds other social problems such as drugs addictions and crime, thereby stacking the odds against children who have been involuntarily locked in this gridlock.
In contrast, the growth of smart cities " … consists of compact neighbourhoods with diverse housing and transportation options which accommodate diverse types of households – young, old, rich, poor, people with disabilities – and residents can choose the most efficient mode for each trip: walking and cycling for local errands, high quality public transit when traveling on busy urban corridors, and automobiles when they are truly optimal overall, considering all impacts. This type of development tends to reduce per capita land consumption, reduces per capita vehicle ownership and travel, and increases the portion of trips made by walking, cycling and public transport, which provides numerous savings and benefits compared with the same people living and working in sprawled locations," says the lead author of this report.
According to UN Habitat, this problem was once restricted to only developed countries, but this phenomenon has gone global.
Case in point: As per the UN Habitat, from 1970 to 2000 the surface area of Guadalajara, Mexico, grew 1.5 times faster than that of the population. This is again seen in Cairo (Egypt), Mexico City (Mexico), Antananarivo (Madagascar), Johannesburg (South Africa), and in most growing cities in China.
"For more than half a century, most countries have experienced rapid urban growth and increased use of motor vehicles. This has led to urban sprawl and even higher demand for motorized travel with a range of environmental, social and economic consequences," noted U.N. Secretary-General Ban Ki-moon, in the Global Report on Human Settlements 2013.
He further went on to add: "Urban transport is a significant source of greenhouse gas emissions and a cause of ill-health due to air and noise pollution. The traffic congestion created by unsustainable transportation systems is responsible for significant economic and productivity costs for commuters and goods transporters."
It is critical that this trend is reversed. As per population growth projections from 1950 to 2050, our population is likely to quadruple and 80% of the rural landscape will turn urban.
As per Litman, there is a misconception that cities are inefficient and dangerous. This is so not very true. "In many ways they are actually more efficient and safer than suburban communities, and they become more efficient and safer as more middle-class households move into urban neighbourhoods."
On the brighter side, as per Litman there is "a growing portion of middle-income households want to live in more compact, multimodal communities – often called a 'walkable' or 'new urban' neighbourhood – instead of sprawl. They are willing to accept a smaller house and they want to drive less and rely more on walking, cycling and public transit, but they can only do so if zoning codes and development policies change to support that."
The spread of the urban crawl can be contained if more and more people opt to live in these smarter multimodal communities.
References:
http://www.ipsnews.net/2015/03/in-thrall-to-the-mall-crawl-and-urban-sprawl/