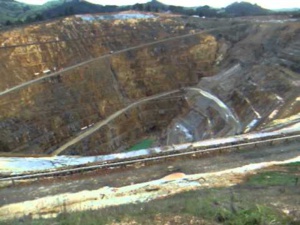 Newmont Mining Corporation (NYSE:
NEM
) has announced, a definitive and binding deal has taken place with
OceanaGold
Corp (TSX: OGC, ASX: OGC), to sell its New Zealand based Waihi Gold operations for $101million. This announcement follows Newmont's previous non-binding letter of intent expressing their interest in selling off the Waihi Gold operations.
OceanaGold is an Australian-Canadian Gold producer, and is publicly traded over Australian, New Zealand and Toronto stock exchanges.
Newmont, based from Colorado, continues to sell selected assets for cash at fair prices to boost company financials.
Randy Engel, Newmont's Executive Vice President for Strategic Development, has stated that this agreement was meant for strengthening its balance sheets and increase financial flexibility.
Newmont has reported profits of $175 million from continuing operations, an 11.8% growth over the income from the last year.
The terms of sale in agreement include a $5M contingent payment in addition to the $101M buy-out; and a 1% Net Smelter Royalty on a recent discovery made to the north of Waihi's current operational zone.
Waihi, located in New Zealand, had an approximate yield of 132,000 ounces of gold in the past year. With this deal, OceanaGold now will take full ownership over all of Waihi's mining assets and liabilities; including all of its open and underground mining facilities.
With both the companies' boards having signed off on the deal, the agreement is expected to close by the end of this current year presumably by the third quarter. The deal is likely to go through after all conditions and required regulatory approvals are met satisfactorily.
On news of the sale taking place, Newmont's shares took a hit of 3.8%, and dropped to 25.79 till midday trading during wider sell-offs of mining stocks.
About Waihi Gold:
Waihi is situated about 150 kilometers southeast of Auckland, New Zealand. Waihi's rich gold reserve history dates back to 1878 when gold was first discovered and mined there. The open pit in Waihi named Martha Mine began operations in 1987, and was acquired by Newmont when it merged with Normandy. The Martha Mine is situated centrally in the Waihi Township and is flagged by its processing plant, a waste treatment plant, and the Favona Mine in close proximity.
About Newmont:
Newmont is a leading copper and gold producer. The company employs around 28,000 people with operations spanning countries such as Indonesia, Suriname, Australia, Ghana, New Zealand, Peru, and United States. Newmont is a publicly traded company and the only named Gold producer in the S&P 500 index. It was also the first company inducted into the Dow & Jones world sustainability index in 2007. The company is a world leader in terms of technical development and also upkeep of social responsibilities.
References:
http://www.streetinsider.com/Corporate+News/Newmont+Mining+%28NEM%29+to+Sell+Waihi+Gold+Limited+in+%24106M+%2B+Royalties+Deal/10629455.html