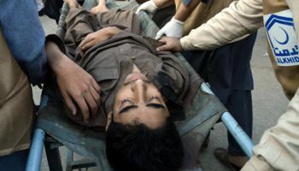 On Tuesday, the 29
th
of December 2015, a suicide bomber "attacked" a Pakistani government office. The blast claimed the lives of at least twenty one people while injuring another seventy people.
The responsibility of the attack was claimed by a "Taliban faction". The attack took place in one of "National Database and Registration Authority", shortly, Nadra's branch. The work of the said office, located in the north-western city of "Mardan in Khyber Pakhtunkhwa province", was to issue ID cards for government.
In the words of the police officer, Naeem Khan:
"A suicide bomber riding an explosives-laden motorcycle hit the Nadra office in Mardan where a large number of people were standing in queues".
Besides the mortally wounded twenty one victims, the seventy eight casualties include twenty eight critical victims, informed Bilal Ahmad Faizi. Mr. Faizi is a spokesperson for "Rescue 1122 emergency responders".
Mohammad Tariq, an employee of National Database and Registration Authority, was inside the building at the time of the event. He recounted that the "huge blast" was heard by him "outside the office premises", whereby he continues:
"We are still inside the office, and the police and rescue workers are busy in their work".
The faction of the Talibans in Pakistan who claimed to have caused the blast is known as "Jamaat ur Ahrar". The said group is active in fighting against the government, in an attempt to overthrow their rule and "establish hard-line Islamist rule".
The target was a legitimate one as the office formed part of the "heathen Pakistan state" confirmed a spokesperson, Ehsanullah Ehsan. He adds:
"God willing, we will target all Pakistani organizations that are either directly or indirectly a part of this war".
The north-west remote swathe territory of Pakistan was once under the Taliban's control. However, a series of "military" offensive mission initiated in the year of 2009 forced the Taliban to retreat into "a few pockets". Even though, the number of militant attacks have reduced, yet Taliban continues to be "a potent threat".
References:
http://www.reuters.com/