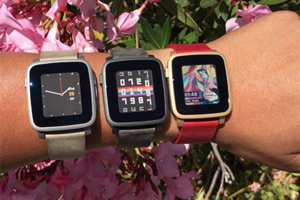 High capacity battery (hours held without charge for up to seven days) is one of the device's significant advantages over its competitors, such as Apple Watch (by comparison, Apple Watch holds a maximum of two days).

In addition, Time Steel have electronic ink color display that also increase the duration of work. Thus, their cost ranges from 250 to 300 dollars (depending on the version of the strap included - leather or steel), which is lower than the competition: the latest Samsung Gear S smart watches and cheapest Apple Watch Sport model cost around $ 350.

The device is a more advanced version of the standard model Pebble Time and characterized in that is made entirely of steel. Time Steel is thicker and heavier than the entry-level, but have an improved display.

The watches are compatible with more than 6500 applications written for the previous model. The device has integrated microphone that allows recognising voice commands. The gadget is also waterproof - it can be immersed to a depth of 30 meters. Models are available in black, red, gray, white and gold colors.

Delivery of the gadget world will take from six to eight weeks, says the company. Those, who donated money through a campaign on Kickstarter, will get their smart watches before the others - they will be sent to customers this week.

Pebble Technologies has completed fundraising for the production of the next generation of its smart watch in March this year. The product was supported financially by over 78.4 thousand people. The company managed to collect money in amount of 40 times more than the stated - more than 20.3 million dollars. Required 500 thousand dollars had been brought within 33 minutes after the start of the campaign, and after 49 minutes, the amount reached one million. When the number of donations has exceeded 13.4 million, Pebble Time became the most successful product on Kickstarter in the history of the site.