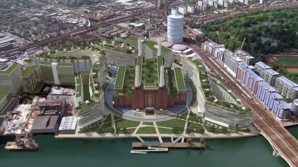 After raising the stamp duty in December last year to 12% when buying a home worth more than 1.5 million pounds ($ 2.3 million), demand in this segment declined, and buyers were more likely to ask about discounts, reports Bloomberg.

At the same time, The Financial Times writes that the British budget revenues from stamp duties on sales of property in the last fiscal year, ended March 31, exceeded the pre-crisis peak. The authorities are expecting decrease in the next year.

In 2014-2015 financial year, fees amounted to 7.5 billion pounds. More than 40% of revenues - 3.03 billion pounds (11%) - accounted for London. This sale housing in Westminster alone brought to the treasury more than Scotland, Wales and Northern Ireland combined - 487 million pounds. In second place - Kensington and Chelsea (451 million pounds).

National previous record was set in 2007-2008 at 6.7 billion pounds.

In August, it was reported that international investors, that have invested millions of dollars in newly built luxury properties in London as a down payment, are faced with rising costs of the pound and the simultaneous fall in housing prices, reports Bloomberg.

The combination of these two trends significantly worsened their potential return on investment in a London home.

In 2013, when the first opportunities to invest in not yet built houses in Battersea and the surrounding area showed up, the demand from foreign investors was off scale. Asian buyers especially favored this area was from. However, in the first half of 2015, the interest of foreigners to purchase property in London has decreased markedly.

The cost of purchase increased by 35% for investors from Malaysia, who purchased housing under construction in the district of Battersea Power Station - the largest residential complex in London - since May 2013 due to the strengthening of pound to ringgit. The share of Malaysian investors in January-June fell to 0.6% from 0.9% in the second half of last year.

Buyers of elite real estate in London from Hong Kong have reduced the share from 5.6% to 3.3%, from Singapore - from 3.8% to 1.4%, from mainland China - from 10.9% to 9.34%.

The cost of gentrification in the area of ​​Battersea, Battersea Park, and for the 12 months ended June 30, decreased by 10%, according to broker real estate Douglas & Gordon Ltd.