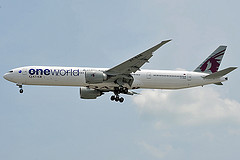 Qatar Airways Chief Executive Akbar Al Baker expressed a voice of dissent in the matter of Oneworld Alliance and noted that he may have to exit the council because of rival and fellow member American Airlines' attempt to block his business.

Oneworld Alliance is a group of carriers aiming to provide service to world's frequent international travelers. The member airlines include Air Berlin, American Airlines, British Airways, Cathay Pacific, Finnair, Iberia, Japan Airlines, LAN Airlines, Malaysia Airlines, Qantas, Qatar Airways, Royal Jordanian, S7 Airlines, TAM Airlines, SriLankan Airlines and US Airways plus some 30 affiliated airlines. Oneworld is currently the third largest global alliance in terms of passengers with 512.8 million passengers, behind Star Alliance and SkyTeam.

"There is no point in us being in Oneworld if an airline that invited us, hosted us in America to sign the entry to Oneworld, is today going against us," Al Baker said.

The carriers from Middle East are facing exponential business, thanks to government support. Qatar Airways is one of the key Middle East carriers and has benefited from good business, leading to a spike in resistance from carriers based in US and Europe. Delta Air Lines Inc., United Continental Holdings, American Airlines, Europe's Air France-KLM and Deutsche Lufthansa AG have all urged their respective governments to restrict the growth of the Middle East companies.

According to a report in Wall Street Journal, Mr. Al Baker has alleged that the American Airlines wasn't providing any information on its bookings system to allow the proper transfer of passengers. Blocking terminal access at New York's John F. Kennedy International Airport for Qatar Airway's new airbus is another roadblock faced by the carrier.

Mr. Al Baker said he would give oneworld representatives time to address the issue.


Meanwhile, American Airlines Chief Executive Doug Parker clarified that he had met Mr. Al Baker at the International Air Transport Association's annual meeting. He said that though they disagreed in certain key issues, they will resolve them within some time.