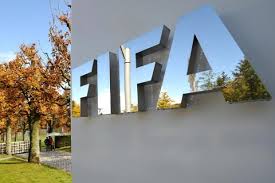 The investigations against the World football body FIFA intensified as more high-ranking Fifa officials were arrested as part of a long-running corruption investigation led by the United States, said reports in New York Times and sources within the Swiss authorities.
More than 12 people were expected to be charged, reported the New York Times quoting law enforcement officials while the Swiss authorities confirmed two arrests. The Baur au Lac hotel in Zurich, the same location at which a group of representatives of football's governing body were arrested in May on corruption charges, was the place from where at least one of the arrests was made.
The officials are being held in custody pending extradition, said Switzerland's federal office of Justice. According to sources and reports, the arrested are suspected to have accepted bribes running into millions of dollars in return for "selling marketing rights in connection with football tournaments in Latin America, as well as World Cup qualifying matches".
With payments processed via US banks, some of the offences were agreed and prepared in the US, said Swiss officials quoting the contents of the arrest requests
The Zurich police said that the names of the arrested would be disclosed after the court proceedings on Thursday.
New York Times reports that Concacaf president Alfredo Hawit of Honduras is among those held. Following the arrest of Jeffrey Webb in May, Hawit was appointed interim head of Concacaf. It has also been reported that Juan Ángel Napout, president of Conmebol, was also arrested at the Baur au Lac.
Concacaf is Fifa's governing body for North America Central America and the Caribbean while Conmebol looks after the affairs of football in South America on behalf of Fifa. Both Hawit and Napout also hold the title of vice-president of
Fifa
and are on the executive committee.
Local reporters who were present on the spot of the arrests quoted witnesses saying that after a group of four people believed to be plainclothes police entered shortly before 6am, the hotel closed its gates. Half an hour later another group of police then went in through the rear entrance of the hotel. Two cars with tinted windows were seen leaving the hotel shortly afterwards but no one could see who was inside.
It was aware of the actions taken by the US and would continue to cooperate with the investigation, Fifa said in a statement.
"We do anticipate pursuing additional charges against individuals and entities," US attorney general Loretta Lynch had said at a press conference in September.
Suspended president Sepp Blatter is expected to be replaced during a meeting of Fifa's leaders scheduled for February in Zurich where governance reforms issues would also be discussed.
Fifa's ethics committee had suspended Blatter for 90 days in early October together with Jérôme Valcke, his right-hand man, and Michel Platini. Platini was a candidate hoping to replace Blatter as president. However as the suspension ends five days prior to the Zurich meeting it is theoretically suspected that the trio could stage a return.
(Source:www.theguardian.com)