The luxury goods market is often seen as a sector apart. You know the realities and what goes on behind the scenes: is that really the case?
I think every sector has its own characteristics, but I'd agree in saying that the luxury sector is a special case. What sets the luxury goods industry apart is that people very much work through networks. That certainly makes for smoother running, but it takes time to build relationships and earn people's trust. There is also a big emotional dimension involved, especially with creatives. In my view, it's important to share a feeling for the product and to adopt a multicultural approach.

In addition, whenever the luxury sector is mentioned, people generally tend to think of just a handful of large groups. That does not really reflect reality, however; the luxury sector is made up of a huge number of brands, very many of which are small to medium-sized businesses. The brands also have numerous partners, particularly through products under license and distribution networks.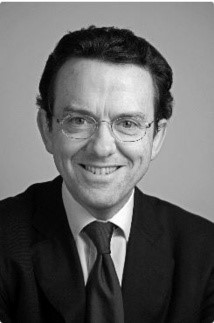 Richard Morgan
So the luxury sector is not the hermetically sealed "bubble" that some might imagine. Did events such as 9/11 impact the growth of the sector?
The attacks on New York set off a shockwave that reached all the way to the luxury sector, which had hitherto enjoyed 10% annual growth and a three-year period of intense M&A activity, including the battle between LVMH and PPR for Gucci, which ended with PPR acquiring control on the very eve of 9/11. All of a sudden, everything came to a halt.

M&A activity quickly picked up in the aftermath, but there was less of a sense of euphoria. Brands were forced to adapt to the market, triggering a sell-off of certain companies badly affected by a downturn in their business. The following year, I was involved in the sale of jewellers Mauboussin, and I saw for myself how difficult the market had become.

There followed a further period of growth for the luxury sector, with business returning to more or less normal. In 2005, for example, when I advised on the sale of UK brand Joseph (2) to Japanese distributor Onward, I remember the market felt very optimistic. And lastly, I might add, the people in the luxury sector form a very close-knit group. That's a real strength to have on a market.
After the rampant growth of the 1990s and early 2000s, the luxury sector is nonetheless experiencing something of a slowdown at present, a fact that has some commentators worried. What is your view of the current situation and what developments might we expect to see in the years ahead?
It has to be said that China is no longer the Eldorado it once was. And growth is no longer as strong as it was. Even so, spending by Chinese travellers still accounts for around 25% of the global market. Europe and the USA, each with a market share of around 30%, are showing a return of confidence, especially in Europe, with growth rates for the luxury sector in 2015 ranging from 5% to 10% depending on the country (3). Japan, a key market, has also shown a marked upturn.

In recent years, brands have invested in vast networks of proprietary boutiques. I think that trend is now levelling off. The product is taking precedence with the emergence of digital – not only on the brands' own websites, but also through partnerships with online distributors, such as between Net à Porter and the Tiffany or Zegna brands.
It is clear, too, that department stores and specialized distribution still play an important role. They have an in-depth knowledge of their local markets and offer their customers an experience that is much more than a simple alignment of names. We are now seeing the bringing together of traditional players and digital pure players, such as e-retailer Farfetch buying up London fashion store Browns, or the acquisition of e-retailer Gilt by the department stores Saks Fifth Avenue.

In the highly codified world of fashion, the "See Now/Buy Now" model launched by Burberry in February 2016 with the presentation of its Autumn 2016 collections is set to take off. It will take a certain time for everyone to adjust, but it will ultimately simplify the system: the aim is to shift the focus away from pre-collections and onto the two main annual runway events. I see this as relieving some of the immense pressure that has been building up on designers and their teams (4).

As for developments in the M&A market, I believe the concentration of major groups is now at an end. We have reached the stage of stabilisation. There will be a few buyouts, but nothing like what we have seen in the past. There are still plenty of independent companies, though, often family businesses, and there is still a buoyant market for the right deals. The investment funds and Asian buyers are always on the look out for opportunities. I also see a lot of mid-sized companies (sales of under €50m) with considerable potential but in need of development capital.

You have been an independent advisor to luxury brands since 2008. Based on your experience, how would you define the needs of luxury brands for advice and support?
Over the course of my career, I have been in a position to assist managers and shareholders on a very wide range of issues. The situations are all very different, just as the luxury brands are all very different from one another. Clearly, the needs of the luxury sector are many, and each situation is unique. I have been involved, for example, in finding distributors for brands, and in introducing stylists or managers to brands looking to complete their teams. It's very rewarding.

One of the experiences that has stuck most firmly in my memory was advising UK listed group French Connection on the sale of designer fashion brand Nicole Farhi. I also advised a French leather goods manufacturer, a family-owned business, on raising funds from a private investor. On another occasion, I advised the owner-managers of a jewellery brand on a strategic review of their business operations, including production and inventory, pricing policy, distribution alternatives. This experience has given me a broad overview of a sector in constant flux. Above all, my experience has taught me how important it is to take the time to understand how a business works and look at its component elements – whether that be design, production, distribution or finance.
Does strategic consulting for the luxury sector require specific working methods? What is your approach?
It is vital, as I see it, to approach each new proposition with no preconceptions as to the size or nature of the operation. Every assignment I undertake is bespoke, tailored in response to the different issues involved. I rely on my experience in the luxury goods sector as much as on my background in investment banking. I work on solutions that encompass everything from brand strategy to financial engineering and shareholder support.

In concrete terms, clients often call me about a particular deal. Over the course of our working sessions, the issues emerge and take shape, extending beyond the scope of simply the deal itself. This gives a completeness to the task and keeps me in phase with the needs of the company and its shareholders.

I learn as much as I can about the product and its positioning, and then I formulate an opinion on the operational dynamics of the business and how its activity is financed. This then enables us to clearly define investment or growth opportunities or identify the right investor or financing to suit the brand or company strategy.
Is that to say that the leading investment banks are unable to provide these services?
Investment banks cannot have the same degree of flexibility, and the relationship with the client is often much less personal. The way they operate is generally geared towards major cross-border mergers and acquisitions and IPOs, much less to providing advice and support to businesses.

Advisory firms working with SMEs usually operate at a country rather than sector level. That works well in a lot of industries, but it can be a handicap in the luxury sector where companies, no matter how large or small, are purposefully international.
And now to end on a more personal note. You are a chartered accountant by training. What led you into M&A and strategic consulting for the luxury sector?
After graduating from the London School of Economics, I joined Deloitte in London where I qualified as a chartered accountant. I was keen to work in industry, so not long afterwards I moved into a major industrial group – Usinor, the then State-owned French steelmaker – as a financial analyst. My job meant I became involved in the financial restructuring of the group with a view to future privatisation (5) and in lobbying the USA in defence of our exports (6).

This initial experience in the finance department whetted my interest in finance and in 1997 I joined investment bank Paribas in the Mergers & Acquisitions Department. I spent my first few years there as a member of the Business Valuation Team, responsible for assignments outside France. I witnessed a wide variety of transactions, including the privatisation of motorways in Italy and the sale of Samsung Motors to Renault during Korea's economic crisis. Then, in 2000, I moved to the Consumer Goods Department, where I led M&A coverage for the Luxury sector. And it was here that my involvement in the sector really began, with teams based throughout the world – in Italy in particular.


(1) Major acquisitions over the 1999-2000-2001 period: LVMH – Fendi, Donna Karan, Tag-Heuer, Zenith; PPR (Kering) – Yves Saint-Laurent, Boucheron, Bottega Veneta, Gucci; Richemont - Van Cleef et Arpels, Jaeger-LeCoultre; Prada – Jil Sander, Church; Swatch - Breguet
(2) Acting on behalf of the shareholders – CNP (holding company of Albert Frère) and L Capital
(3) Bain Luxury Goods Worldwide Market study Fall-Winter 2015. Also illustrates the importance of the historic trio of Paris-New York-London, together maintaining a total market share of 20%.
(4) Today's consumers want to buy what they see in online runway shows immediately, instead of having to wait several months for collections to hit the stores.
(5) The company was privatised in 1995.
(6) Usinor had to mount a defence before the US authorities against charges brought by US steel firms that it had received subsidies from the French government amounting, in the view of the plaintiffs, to unfair competition. Five years of intensive work with a brilliant team of lawyers in New York and Washington. We mounted a successful defence and the US market remained open.