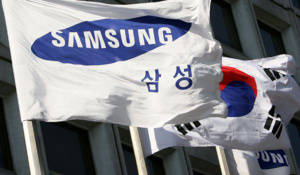 Samsung has been consistently ranked in the top ten most expensive IT companies in the world since 2005. Now, however, the company dropped out of the ranking, because investors began to consider its stock less attractive for investment thanks to increased competition from Apple and the Chinese smartphone manufacturers, the newspaper notes.

In 2012, when Samsung's market capitalization exceeded $ 200 billion, the company held the 6th place in the list. A year later, it sank to the seventh line, and the last year has moved to ninth.

The value of shares of the company fell from 1.32 million KRW (about $ 1,116) at the end of 2014 to 1.08 million ($ 913). Last price, recorded on Friday, August 28, 2015, was 32% below the record high of 1.58 million won ($ 1,335), which Samsung shares reached in January 2013.

Samsung's profit continues to fall due to weak sales of smartphones. In April-June net profit amounted to 5.8 trillion won (about $ 5 billion), which is 8% less than a year earlier. The company's finance indicators are falling for five consecutive quarters. Operating profit declined at an annual rate of 4% to 6.9 trillion won ($ 5.9 billion), while sales - by 7% to 48.5 trillion won ($ 41.6 billion).

Division of Samsung IT & Mobile Communications, responsible for the development, production and sale of smart phones, received an operating profit of 2.8 trillion won ($ 2.4 billion), which is 38% less than the previous year.

In April-June 2015, the share of Samsung's global smartphone market fell by more than 3 percentage points due to the growing sales of the iPhone and strong competition from Chinese brands such as Xiaomi.

In addition, the company made a mistake with the forecast for the implementation of Galaxy S6: Model Galaxy S6 Edge with rounded display proved to be very popular, but the manufacturer has not released it in sufficient quantities and created the deficit, while the regular version of the flagship was eclipsed by iPhone 6.

Amid falling demand for smartphones, Samsung is developing semiconductor business. And very successfully - Samsung Electronics continues to approach the first place in the list of the largest semiconductor manufacturers.