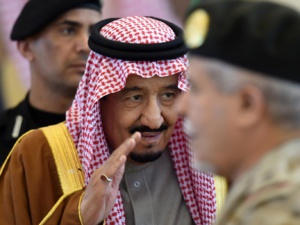 Saudi Arabia informed that thirty four countries are ready to create a new "Islamic military alliance" in an attempt to "fight terrorism", whereby "joint operations" will be conducted which will be centred at Riyadh, the "kingdom's capital".

The said announcement came out in a Saudi Press Agency that is run by the state. Moreover, the same also stated that "the alliance will be Saudi-led". The alliance is in the process of being established as terrorism "should be fought by all means and collaboration should be made to eliminate it."

Furthermore, the statement reminded that "corruption and destruction in the world" is not the Islamic way, while the act of terrorism is "a serious violation of human dignity and rights, especially the right to life and the right to security".

The up-coming "counterterrorism coalition" will take in countries who have "large and established armies" like "Pakistan, Turkey and Egypt" along with "Libya and Yemen" even though they are "war-torn countries with embattled militaries. The list of members does not end here, as the African countries like "Mali, Chad, Somalia and Nigeria", those who have witnessed "terrorist attacks" and suffered their pangs will also form part of the coalition.

Nevertheless, the neighbour of Saudi Arabia, meaning Iran, does not form part of this initiative as both the countries share "opposite" views and support "opposite" groups in the war between Yemen and Syria.

Moreover, Saudi Arabia and Yemen are undergoing political tension as the former is "leading a military intervention" against the "Shiite Houthi rebels" residing in Yemen. Additionally, Saudi Arabia is also in the "US-led coalition" that is "bombing the Islamic State group in Iraq and Syria".

The Deputy Crown Prince and Defense Minister of Saudi, Mohammed bin Salman, commented in a "rare news conference", whereby revealing that "the new Islamic military coalition" aims to "counter the Sunni extremist Islamic State group". The coalition will also strive to arrive at "mechanisms" that will enable it to work with "other countries and international bodies" in a supportive "international counterterrorism efforts". He added:
"Currently, every Muslim country is fighting terrorism individually ... So coordinating efforts is very important".

Even the "archipelago of the Maldives and the island-nation of Bahrain" too will form part of the "member-states", while other "Gulf Arab countries" including the United Arab Emirates, Kuwait and Qatar are also on the list, while the absent of Saudi's yet another neighbour, Oman, draws a noticeable attention.