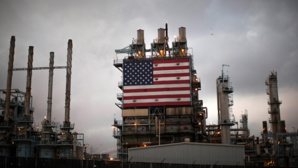 Reuters
- Growth of boot refineries that had been provoked by seasonal increase in demand for fuel along with improved refinery profit margin, is likely to contribute to the growth in oil demand in the coming months, - said OPEC in the monthly report.
Specialists of the cartel expects that in I quarter of 2015, the demand will be 29.27 million barrels per day, that is, 80 thousand barrels more than in the previous forecast. At the same time, oil production of OPEC countries increased by only 680 thousand barrels per day, although previously was expected to grow by 850 thousand barrels per day.
The United States, namely the shale industry, was the main purpose of the cartel, when it was decided to maintain the volume of production at 30 million barrels per day in November 2014 in Vienna.
As a result of this decision, oil prices continued to fall and hit a low in January 2015 (Brent - $ 50 per barrel), then rebounded to $ 60 per barrel. And, as the head of the world's largest investment fund BlackRock Laurence Fink predicts, the oil price in the second half of 2015 will not fall below $ 60 per barrel, but is unlikely to rise above $ 80 a barrel.
At the same time from the beginning of the year, low oil prices triggered a sharp reduction in drilling rigs in the United States, as oil production technology hydraulic fracturing (HF) is justified only if the price of a barrel is above $ 60.
Drilling rigs in the United States

The number of oilrigs in the United States for the week ending April 17 fell by 26 to 734, which was the 19th consecutive decline in the index, according to oilfield services company Baker Hughes.

The number of drilling rigs, including gas, fell by 34 to 954. The index was the lowest since 2009

According to Paal Kibsgaard, chairman and CEO of the largest oilfield services company in the world Schlumberger Ltd, reducing costs due to oil and gas companies' fall in oil prices "is beginning to affect both North America and the whole world, and the proposal may be reduced in the second half of the year".
As noted in the materials of the site Oilprice.com, Saudi Arabia held low prices for "black gold" for 5 months, despite the growing risk of rising dissent in the country, as well as the collapse of OPEC, with one purpose - to stifle the shale gas revolution in the US.
OPEC expects oil production in the US to continue to increase to 13.65 million barrels per day in II quarter of 2015, after which growth stops and the volume of production will gradually decline.
source: vestifinance