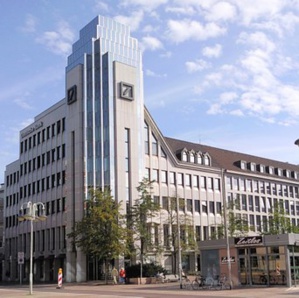 According to "market sources", Deutsche Bank AG has already kicked off the sale procedures of its "Polish banking" operations' parts, as it gets rid of "non-core assets" besides freeing up capital.
The banking sector of Poland witnessed numerous acquisitions and mergers due to multiple factors like "tough competition, low interest rates" besides the efforts made by the "eurosceptic Law and Justice" party of the country to restrict "excessive foreign ownership" as it perceived. Enlisting a brief description of the above mentioned deals, Reuters adds:
"Polish state-controlled insurer PZU PZU.WA and investment fund PFR agreed to buy 33 percent of UniCredit's Pekao PEO.WA, Poland's second biggest bank, in December.
"And PZU's Alior Bank ALRR.WA tried to buy the Polish unit of Raiffeisen Bank International (RBIV.VI), although talks ended and Raiffeisen now plans to list Raiffeisen Bank Polska, also known as Raiffeisen Polbank IPO-RBP.WA, on the Warsaw bourse".
Moreover, a deal of "Deutsche Bank Polska", which stands as the "twelfth biggest lender" of Poland, could have a minimum value of "$450 million". While, one source informed that Deutsche is likely to "spilt the business", as it could sell the portfolios of "consumer loans", "zloty-denominated mortgages" and loans taken by "small and medium firms".
Given the regulatory demand of "foreign investors" who are coming out of Poland's market need to "keep hold of foreign exchange-denominated mortgages", Deutsche will have to keep "Swiss franc denominated mortgages". However, it could become challenging for Deutsche to trade its "Polish business" as it holds "low profitability" given the "increased role of the state in the sector". As a result, it becomes tough for the smaller players to hold onto the competition.
After suffering from "record low interest rates, a bank tax and obligatory payments to a guarantee fund", the Polish banks have even closed down its "brokerage unit". In relation to the "sales documents" that being circulated among the "prospective buyers", a source said:
"The teasers have been already sent, we are at the stage of unbinding offers now".
One such source valued the possible deal "between 1.7 and 1.8 billion zlotys", which equals to "($456-483 million", whereas another sources sees only its assets' values over "400 million euros" or "$448 million". Here is a list of potential bidders presented by Reuters:
"Deutsche Bank's fellow German lender, Commerzbank (CBKG.DE), which owns mBank MBK.WA Poland's fourth largest, Spain's Santander (SAN.MC) the owner of local No.3 bank BZ WBK BZW.WA and the Polish unit of Portugal's Millennium BCP (BCP.LS)".
References:
http://www.reuters.com