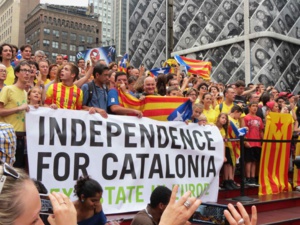 Liz Castro - Flickr
Since 1977, after the first democratic elections in the country, two parties have been consistently fighting for the first place in the parliamentary elections. However, after this Sunday the two-party system may come to the end. According to the newspaper El Mundo, which brought average performance of 20 polls, the ruling People's Party is gaining 27.8% of the vote, and its bitter rival - the Socialists - 21.1%. 19.4% and 16.5% are tipped to two new-gen parties - the centrist Ciudadanos ("Citizens") and the populist left Podemos ("We can").

"Populists" and the Socialists lost dramatically in popularity in recent years. Podemos, which is often called the twin brother of the Greek "Syriza", was formed in early 2014 as a political wing of 15-M Movement protests against inequality and corruption - a kind of Spanish counterpart Occupy Wall Street. Centrist Ciudadanos was founded early in 2006, in Catalonia, yet made it to the national level just recently, caused by voters' frustration in the two-party system. Its programme consists of preservation of the country's unity in the face of Catalan nationalism, business support, fight against corruption.

During the pre-election debates, main attention was focused on the situation in the country. In particular, members of the People's Party drew attention to the fact that Spain emerged from recession, and about 1 million jobs were created during the last two years. Also, there were new promises: to reduce the income tax, and create additional 2 million jobs in the next four years.

According to the Spanish political scientists, Ciudadanos' leader, 36-year-old Albert Rivera held the most effective campaign. His party is unlikely to catch up with the "populists", but it can play a crucial role after tabulation. "For the first time in the history of Spain, there can be a situation in which the winner of the parliamentary elections will form the government. It does not matter, win the People's Party or not. What is important, by which margin it will win, and whether they will have opportunities to create a coalition, - said Lewis Orriols of Carlos III University. He predicts that if "populists" and Ciudadanos along receive an absolute majority of seats in the Chamber of Deputies (176 of 350), then Mariano Rajoy will get "a great opportunity to stay at the head of the government."