by Marielle Brie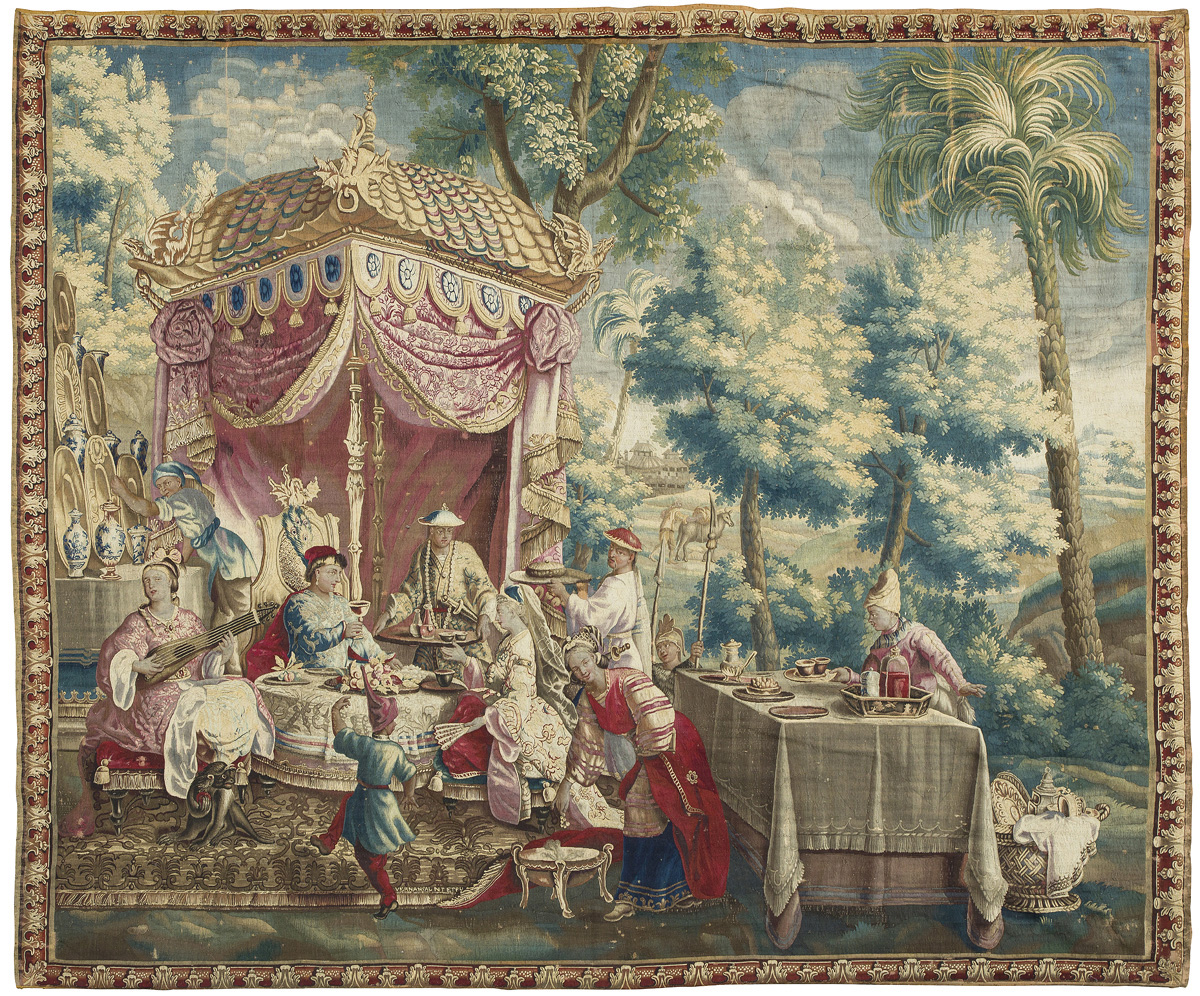 Royal Factory of Beauvais, after Guy Louis Vernansal, Jean-Baptiste Monnoyer and Jean-Baptiste Belin de Fontenay, first third of the 18th century, tapestry from the "History of the Emperor of China" showing "La Collation" ("The Light Meal"), by Guy Louis Vernansal, 333 x 394 cm/131 x 155 in. Paris, Hôtel Drouot, December 2, 2019. Ader auction house. Mr. Dayot. Sold for €147,200
Long before Louis XIV's minister, Jean-Baptiste Colbert, reunited Paris's scattered factories at Les Gobelins in 1662,
Louis XIII
had ordered the artist
Simon Vouet
, who was in Italy, to return in 1627. The idea was for the painter to collaborate with Maurice Dubout, the king's tapestry-maker, in the Louvre workshops. While paintings consolidated royal power, tapestries were a universal presence. This was also in Colbert's mind when he appointed Charles Le Brun (1619-1690) as head of Les Gobelins. The Mannerism and poetic lyricism of the Renaissance Vouet drew from the fashionable novels, poems and epics of the time were succeeded by a classicism that glorified the young
Louis XIV
. The hangings based on paintings were certainly not original, but they were intended to disseminate models, and become the norm. Those featuring the "History of Alexander", the "Muses" and the "Seasons" were admired more for their decorative qualities than for their exploration of the art of tapestry. In addition, the cartoons often needed to be retouched: transposing the easel to the loom did not suit the medium, and weaving declined because of a process solely dictated by painters. Reflecting this lack of consideration, a palette of bright, solid colors—known as "grand teint"—was developed to make tapestries as faithful as possible to works painted by Pierre Mignard, Cotte and Jean
Berain
. Click here to read more!