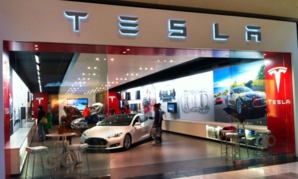 Wesley Fryer/Flickr
Unlike many automakers, Tesla reports on sales than not monthly but quarterly. In addition, the company is usually not in a hurry to do it. Because of this, evaluating of its sales come from third parties, and often their assessment differed greatly. Therefore, Tesla decided to disclose the sales after only three days after the end of the quarter, The Wall Street Journal says.

In addition, Tesla noted that its financial results should not be judged by only one of this indicator. For example, in the III quarter of 2014, they sold 7,785 electric vehicles compared with the same period in 2013. However, the net loss during the year increased from $ 16 million to $ 108 million.

In January, the company's CEO Elon Musk has warned that it is unlikely to get a net profit before 2020. The company makes large investments in capacity expansion and development of new technologies. Also this year, deliveries of its new electric Model X will begin.

From the beginning, stock quotes of Tesla fell by almost 13% and at the end of trading on Thursday, they cost $ 191.

In the meantime, Tesla Motors will begin production of four-wheel drive version of the electric Model S, said company's CEO Elon Musk at a special event near Los Angeles. Installation of transmission with all-wheel drive sedan precedes the appearance of crossover electric Model X in the model number, sales of which are expected to begin next year.

The notation D will used for all-wheel drive sedan, what means dual motor. A second motor (capacity 188 or 221 hp..) will be installed in the car over the front axle in addition to the to the rear in current versions of Model S.

- I think it will be a whole new class of customers, for which four-wheel drive is extremely important - Musk told to reporters.

- They are not so interested in high power as much as in all-wheel drive.

The company also announced the launch of driver assistance systems using video cameras and radar that prevents moving out the road and collisions with a vehicle in front when using cruise control.

- Although drivers are still required to continuously monitor the road, Model S will no longer make them keep their hands on the steering wheel, - said Musk. If the driver turn signal, the car will change lanes itsellf. Thus, Tesla has offered customers the option, surpasses competitors' system in the premium class, such as Mercedes-Benz and BMW, says Automotive News.

Plant Tesla began equipping Model S with cameras and sensors necessary for the system about two weeks ago. Musk calls these functions a springboard for autonomous driving.

- The following year, cars Tesla are likely to be 90% ready for autopilot - said Musk to CNN Money last week.

- That is 90% of your trip can take place on autopilot. Driving on the highway - for sure.