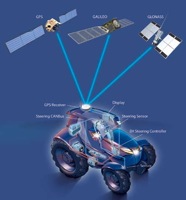 An announcement made by Research and Markets stated that the report of "Agricultural Machinery Market in India 2015-2019" has been added, whereby the "agricultural machinery market" of India is likely to "grow at a CAGR of 7.93%".
The said growth is expected to take place "over a period" of six years, starting from 2014 to 2019. Agriculture provides a significant "source of employment" in India besides being a substantial part of GDP of the country. In fact, almost seventy percent of Indians depend on agricultural income as their main income course. The "National Statistical Organization" of India, the "Central Statistics Office", informs that the contribution towards GDP coming from the agricultural and related sector covered upto "13.90%" in the year of 2013-2014.
Keeping the soaring market prices in mind, the "conventional fuels" seem to be costly affair along with contributing further into the "rising concerns of environmental pollution". Likewise, farmers are showing interest in trying out various "alternative fuel options" like propane, LNG, kerosene, diesel, CNG, and vegetable oil, in order to fuel their equipments.
In fact, in the year of 2011, adopting the said thought strain, New Holland came up with a tractor that was powered by hydrogen, NH
2
while it emitted "oxygen and water". There are other tractors that run bio-diesel although they can be quite "expensive" for the farmers. Nevertheless, the farmers who adopted the bio-fuel method benefitted in the long run as their engine longevity, "low operating costs, and reduced maintenance costs" eventually paid off.
Furthermore, the said report also mentioned that in the year of 2014, India recorded an increased population boom; while the "Australian Department of Agriculture" claimed that in India the "real value of agri-food demand" will mostly see an increment "between 2009 and 2050".
Moreover, the BusinessWire also informs:
"End-users require efficient farm cultivation to cope with this increasing demand for food. Although the arable area has not increased in proportion to the demand for food, farmers are increasing the efficiency and speed of production by adopting advanced agricultural machinery to meet this demand".
However, the report also suggested that as the raw materials price keep fluctuating their margins also could come down which will be influencing the growth of the overall market.
References:
www.businesswire.com