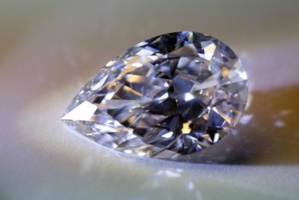 It has been quite some time since the market has been facing a dearth of diamond supply. The gap was 'long-promised' to be bridged which till date "stubbornly refuses to materialize". Thomas Biesheuvel reports about the same trend to Bloomberg.

Biesheuvel starts in a tone which invites the readers to reflect on the chart of diamond's market supply along with its demand, whereby he writes:
"If you've ever been to a diamond investment pitch you've probably seen 'The Chart,' the one where diamond demand soars, while supply trails forlornly in its wake."

As per him, there has been a "presentation staple" which resulted in a looming "supply gap" in the diamond market. The said breach highlighted the need for "new mines" to satisfy the humanity's "expanding appetites" for luxury which is mostly sprouting "from Shanghai to Mumbai", whereby Biesheuvel comments:
"The only problem is that the x axis keeps shifting, it's always jam tomorrow."

If one supports the said projection of the chart, it only leads to "the dearth of new projects". In fact, many years have gone by since any major diamond quarries were found resulting in a short supply due to the fact that all the resources of diamond buried near the surface of the have been exhausted. In the year of 2006, the supply of diamond was at it its peak when "176 carats" of diamonds were mined. However, by the year of 2013, the supply rate fell drastically as only "146 million carats" of diamond were supplied.

At present, the "diamond industry" is very much dependent upon "seven giant mines". However, sadly enough all of them are coming to close to the point of exhaustion, as they are "aging rapidly". Among the seven giant diamond mines, the ones at Orapa and De Beers's Jwaneng, situated in Botswana are the biggest in the world which holds "about 20 percent of the world's diamond resources". Orapa was inaugurated in 1971, while Jwaneng started functioning from 1982, after which till present date "nothing of their scale has been found".

The rapidly growing demand of the diamond, which the industry faces amid the depleting resource supplies, is a pointer towards the "rapidly expanding" middle-class societies of India and China. Therefore, the growth of correspondent market, followed by the rise of middleclass families, would fuel the growth of diamond industry, whereby the De Beers forecasted that:
"...the global diamond industry would grow from $25 billion in 2013 to $31 billion in 2018".

Unfortunately, this hopeful prediction didn't come to fruition often, as in the early years of 2000's the stockpiles of De Beers were sold. The argument that "price fills the supply gap", often given by the diamond-industry, is quite well known. However, the sky high diamond prices of diamond managed to retrieve 63% of the last decade's revenue loss; although the major collection period was observed as 2008 to 2011.

Moreover, the C.E.O of "Firestone Diamonds Ltd", Stuart Brown, who was also the chief of finance at De Beers, states:
"It's just an indicator. The fundamentals for our industry are still right. Imagine if it was the other way round and I was trying to sell you an investment showing demand dropping and supply going through the roof. If I wanted you to give me some money you wouldn't be very keen."