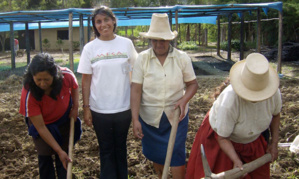 Patagonia can be easily located at the southern tip of the Americas. Covering more than 1.06 square kilometres, 75% of its landmass lies in Argentina and the remaining 25% is distributed in Aysén and Magallanes, Chile's southern- most region. According to experts it has one of the biggest freshwater reserves in the planet.
Aysén is a scarcely populated are in southern Chile, home to just 105,000 of its 17.5 million population. Aysén is wild, cold and windy. Filled with innumerable lakes and meandering swift rivers, the land is fertile, rich with mineral and marine resources, the biodiversity plentiful.
The quest for ecologically viable production
Aysén's stunningly beautiful landscape hides a very dirty area. Aysén's capital located about at about 1,629 kms south of Santiago, is home to the country's poor. 10% of its population live in poverty, and 4.2% in extreme poverty. In order to shake themselves out of this stricken state of affairs, Patagonians are wanting to create a self-sustaining life reserve.
"We want what we have to be taken care of, and for only what is produced in our region to be sold. There are other pretty places, but nothing compares to the nature in our region. We still eat free-roaming chickens, natural eggs; all of the vegetables and fruit in our region are natural, grown without chemicals," " said a village woman named Mancilla.
Farmers here grow organic produce, using their own waste as fertiliser. Slowly but surely ecologically viable products are seeing the light of day and more and more farmers are opting to go organic.
"Some say this isn't good land for planting, but I know it's fertile. I'm always innovating, planting things to see how they grow. Thank god that everything grows well in this soil. I've found that out for myself and I can demonstrate it," said Molina, pointing to her crops.
Molina, a woman from the village has built 4 green houses, with her own hands. She grows artichokes, pumpkins, black seed squash, cabbages, and cucumbers. One does not normally see such crop grow in such cold climates.
Many such farmers have come together and have formed an association. With the help and support from an NGO, Programme for Training of Peasant Women, along with the backing of two governmental agencies, Foundation for the Promotion and Development of Women and Institute of Agricultural Development, their association have benefited more than 20,000 women, most of whom have seen comparative economic success after joining the association.
"[with the help of the programme] women now have more rights and bring in their own incomes to help put food on the table" says Molina. Even their husbands are now proud of their work.
"We have at last obtained recognition of rural women. Peasant women have learned to appreciate themselves. Each one of our members has a history of pain that she has managed to ease through working and talking together. We have learned to value ourselves as women and to value our work, thanks to which our members have been able to send their children to university," added Mancilla.
The daunting water challenge
Even after surmounting so many difficulties, one of their basic requirements is still to be met and conquered. Augusto Pinochet, was Chile's dictator and he drafted Chile's Water Code wherein Chile's abundant water was privatised, giving the state complete control to issue water rights to companies free of charge, in perpetuity. It also allows water rights to be leased, sold or bought without taking into consideration the purpose nor the priorities. For the women of the association, this translates to the fact that they now have to obtain their own water rights so that they are not dependant on a company for their water needs.
"Why should we pay for water rights if people were born and raised in the countryside and always had access to water?" asks Mancilla.
The women in Patagonia have had to give birth without the succour of a hospital, they look after their families, put food on the table and have now managed to run organisations as well. It is only a matter of time that they once again emerge victorious against the current problem of water rights.
References:
http://www.ipsnews.net/2015/04/women-farmers-in-patagonia-rewrite-their-history-in-chile/