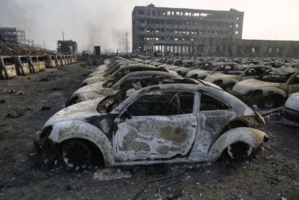 Analysts at Credit Suisse, based in their evaluations on the reports in the Chinese media, believe that the overall insurance losses reach $ 1-1.5 billion, however, Fitch analysts believe that this amount could be much higher.

Local Chinese insurance companies are required to pay for losses as a result of the explosion, and it is not clear how many of these payments will go to reinsurance companies. "The high level of security in this area may lead to the fact that this explosion will be one of the most costly disaster for the Chinese insurance sector over the past few years," – Fitch's report says.

- Insurance claims in connection with the explosion can destroy the financial performance of some regional players - companies that insure property and insure against accidents, - said the agency.

However, it is still too early to say what a damage will be done to credit insurance sector in China, according to the agency. If insurance claims will meet the highest estimates, it will amount to more than 5% of the total share capital of the six largest insurance companies in Tianjin - estimates Fitch.

PICC Property and Casualty Company, Ping An Property & Casualty Insurance Company of China, China Pacific Property Insurance, China Continent Property & Casualty Insurance, Sunshine Property & Casualty Insurance and Taiping General Insurance - that's the biggest insurance companies in the region, according to Fitch. These companies account for nearly 80% of the insurance market in the field of property insurance and accident insurance.

Insurance companies operating in the insurance property and casualty event in Tianjin, as a rule, transfers about 10-15% risk to local and international insurance companies, Fitch's report.

Such insurance companies like Zurich Insurance and Allianz are among those who has also received insurance claims in connection with the bombings, which killed more than 100 people and destroyed thousands of cars in Tianjin - the third largest port in terms of total cargo.

Nevertheless, the German company Allianz said it does not expect large insurance claims in connection with the blasts, which occurred on 12 August.