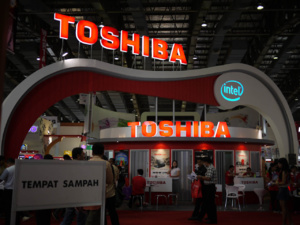 Seika via flickr
Toshiba has requested about 200 billion yen ($ 1.76 billion) from Sumitomo Mitsui Banking Corp, Mizuho Bank, and Sumitomo Mitsui Trust Bank. Lenders are ready to provide loans, but the amount is yet to be discussed, the sources said.

The company required the funds to recover from the scandal. In July 2015, Toshiba completed the audit, the results of which revealed that the top managers of the company had been fabricating financial statements and overstated the concern's profit of $ 1.2 billion for six years,. All the guilty directors were dismissed.

Toshiba's spokesman confirmed that the company's management is negotiating additional debt with its main creditors, but noted that their size and conditions are not determent yet. Representatives of the three banks declined to comment.

In September, 2015, the corporation has opened a credit line in banks Sumitomo Mitsui Banking, Mizuho Bank, and Sumitomo Mitsui Trust Bank with total amount of 400 billion yen.

To improve the falling capital ratios, Toshiba is selling its medical division of Toshiba Medical Systems. Earlier in January 2016, the first round of the auction was won by two coalitions, which offered the highest bids. One of the groups includes the Japanese company Canon, Konica Minolta and British investment fund Permira, and the other - Fujifilm, Mitsui & Co. and US private equity fund Kohlberg Kravis Roberts.

According to MarketWatch, citing its sources, Fujifilm Holdings Corp. and Canon Inc. have the greatest chances for the acquisition of Toshiba Medical Systems at the moment. The second round of the auction will be held March 4th. Perhaps as early as next week, Toshiba will determine a single candidate, which will conduct exclusive negotiations on the deal.