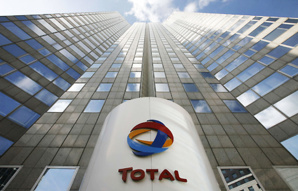 Total is one of the largest operators on the UK continental shelf. If the deal goes through, the company will reduce its stake in the field from 80 to 60 percent. Danish Dong Energy buys 20 percent stake.
Oil and gas industry hopes that the Finance Minister of the United Kingdom George Osborne will reduce the additional taxes paid by mining companies in the North Sea, the publication adds.

Among the potential buyers of Lagan-Tormor shares are Austrian OMV, which has increased in recent years its presence in the region to the west of the Shetland Islands, the state Kuwait Petroleum Corporation and the Japanese energy company Nippon Oil.

Total will continue to work in the field, which should become operational at the end of this year, after it had invested 3.5 billion pounds. Peak yield is expected to reach more than 141,580,000 cubic meters of gas per day, or 90 million barrels of oil equivalent. According to analysts, the share of deposit worth hundreds of millions of dollars.

If Total sell its share, it can lead to other deals in the North Sea as well as other companies evaluate the possibility of selling after the price of Brent oil fell from $ 115 per barrel last summer to below $ 60 at the moment.

Lagan deposit was discovered in 1986, but it was considered too small for commercial use before the opening of the adjacent Tormor in 2007.

This is not the first solution in the industry – this way companies try to get rid of the assets on which work is very expensive. Note that the reduction in the cost of gas and oil provokes decline of profitability of such projects.

Total S.A. is a French oil and gas company, the fourth in volume production in the world after Royal Dutch Shell, BP and ExxonMobil. Headquartered in Paris. The company ranks sixth in the Fortune Global 500. As of February 2007, Total was the world's fourth largest by market capitalization. Total has operations in more than 130 countries around the world; The company employs 111,000 workers. Oil and gas production reaches 2.6 million barrels of oil equivalent per day (about 130 million tons per year); reserves are estimated at 11.1 billion barrels of oil equivalent (about 1.5 billion tons).

In addition to mining, refining and implementing the company owns a chain of gas stations and owns a number of chemical industry, as well as in other industries. Also has a number of subsidiaries (Atotech, Bostik, Hutchinson).