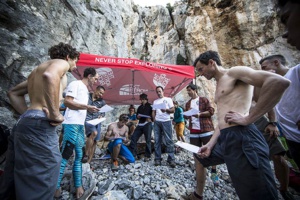 the North Face
Greenpeace calls for manufacturers of outerwear stop impregnate things toxic chemicals, poisoning the nature. The environmental organizations sent the claim to Columbia, Patagonia, The North Face, Salewa and Mammut.

On Tuesday, Greenpeace released a report on the results of ten expeditions to remote corners of the world, carried out in May and June of this year. According to the organization's report, in all the places visited have been found traces of perfluorocarbons - artificially created chemical compounds that provide water-resistance, but are very slow to disintegrate. As a result, they come first in the water near the production sites, and then spread across the planet. So, they were found in samples of snow and water, gathered, for example, in the Altai Mountains and the Swiss Alps, as well as in the national park Torres del Paine in Chile.

- The irony is that clothing manufacturers, depend on the nature, voluntarily discard into the environment of hazardous chemicals, - said Greenpeace spokeswoman Mirjam Kopp. The fact is that all waterproof clothing manufacturers are actively using image of pristine wilderness in their advertising campaigns. Moreover, they often call for the protection of the environment, and some have even set up special funds for this purpose. For example, there is Patagonia, which actively promotes the use of recycled materials in the production. In addition, the company has participated in the creation of the national park of Chile, which now showed signs of harmful activity.

Greenpeace demanded that all the above-mentioned companies should develop a special program for the removal of toxic chemicals from their clothing production. "They have to set short deadlines for the removal of perfluorocarbons from the production process," - said Mrs. Kopp. According to the organization, such programs have been developed by Adidas and Puma, which had previously also been convicted of harming the environment with toxic chemicals. Some manufacturers, as noted by Greenpeace, has already got rid of perfluorocarbons in the development of waterproof clothing collections.

In response to the claims of Greenpeace, Patagonia noted that already began to use less toxic perfluorocarbons compounds in their products, while recognizing that this is a "temporary measure" which "is not good enough, but is the best option at the moment."

Columbia Sportswear stated that they are aware of the report released Greenpeace, but need a copy for review before its representatives will be able to give any comments.