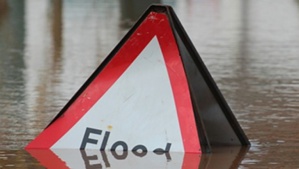 Late on Tuesday, Storm Frank brought new battering tidings for England, whereby the cost estimated for cleaning up the flooding effect that took place in the "northern England" exceeds "£5.5bn".
For three days the water continued to rise and submerged "large parts of the country"; although some "flooding had receded", people still feared "further damage as the new storm front approached".
As per the forecast, Storm Frank is to bring down "severe gales and heavy rain". Moreover, warnings for heavy rains were issued for "Cumbria, south and west Scotland and parts of Northern Ireland".
The estimation tells that the areas under warning could expect "60mm of rainfall", while some regions of Scotland and Cumbria could even witness as heavy rainfall as "100mm -150mm". According to the KPMG consultancy firm, the "UK insurance industry alone" could make up for "£1.5bn".
The Head of "general insurance management consulting" at KPMG, Justin Balcombe states that in the year of 2007, similar devastating flood had taken place, whereby the payout amount of insurance reached "£3.2bn". He adds:
"We are assessing this month's events through a number of economic lenses, resulting in an initial total cost estimate of £5 billion to £5.8 billion".
According to Balcombe poeple should be aware of a "serious level of underinsurance", while the limits of many "insurance policies" could make the companies quite "inadequate" in covering up for the entire loss, while the economic impact is nearing "£1bn", he remarked:
"This is driven in part by homeowners still feeling the effects of the recession and reducing insurance premium spend and coverage".
"In addition, given the post Christmas timing, homeowners will have indirectly increased their contents values through with presents and food, and while several policies provide for such an uplift, many do not.
"Furthermore, businesses that have been impacted by flooding may take longer to return to pre loss profitability while their insurance coverage may not extend beyond a notional 12 month business interruption period."
On the other hand, PwC's "general insurance leader", Mohammad Khan, informs that Saturday's heavy rain could possibly cause a "significant" damage to UK's economy, whereby he said:
"It is still early to estimate losses but, based on the areas where significant rain has fallen, the great number of roads submerged and including the losses arising from Storm Desmond earlier this month, we would give a very initial estimate of economic losses of between £900m and £1.3bn, with the insurance industry bearing between £700m to £1bn of this".
"If rain continues to fall in large quantities, and the areas with warnings in place do indeed flood significantly, it could well be that the total economic losses could breach £1.5bn with an additional significant increase in insurer losses from our initial estimate".
References:
http://www.digitallook.com/