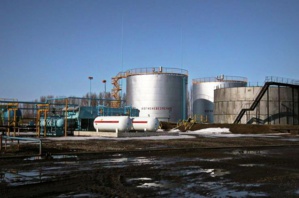 The net loss of the British oil and gas company JKX Oil & Gas Plc, attributable to shareholders for 2014, amounted to 79.53 million against the profit of $ 6.5 million a year earlier, the company said.

In the reporting period, revenues JKX fell 19.09% compared to the same period of 2013, to 146.2 million dollars. Gross loss of the company amounted to 35.69 million against a profit of 33.43 million dollars.

Operating profit at the end of JKX 2014 rose 26% to $ 11.6 million. Capital expenditures of the company decreased in comparison with 2013 year by 34.3%, to 42.3 million. The volume of oil and gas production amounted to 9.919 million tons of oil equivalent, which is 2% more than in 2013.

British oil and gas company JKX Oil & Gas Plc operates in Russia, Ukraine, Hungary, Bulgaria and Slovakia.
Despite the difficulties associated with the company's operations, in 2014, significant progress was achieved due to Elizavetovskoe settlement in Ukraine, and also because of the stable gas production at the field Koshekhablsky in Russia, according to the statements of the company.

Due to the negative financial result and further uncertainty in the region, the company's board of directors has recommended not to pay dividends in the last year.

Let us recall that the company JKX Oil & Gas Plc, trading in London and owning oil and gas assets in Ukraine and Russia, has started arbitration proceedings against Ukraine in international courts, demanding to recover from the Ukraine 180 million dollars. This is stated in the JKX report.

Claims were filed under the "Energy Charter Treaty", bilateral investment treaty between Great Britain and Ukraine and the bilateral investment treaty between the Netherlands and Ukraine, which have been violated by Ukraine.

- In these proceedings, JKX seeks compensation for the losses it has suffered as a result of breach of contract by Ukraine, including in respect of JKX investments, - said the statement. JKX is seeking to recover from the Ukraine over 180 million dollars, which "his Ukrainian subsidiary company paid for oil and gas production in Ukraine in 2011".

British JKX Oil & Gas plc, a blocking stake in which belongs to Igor Kolomoisky and his partner Gennady Bogolyubov's structures, also holds assets in Hungary and Slovakia. In Ukraine, the company owns "Poltava Petroleum Company" (PPC), has four licenses to develop oil and gas fields of Novo-Nikolayevsk complex in Poltava region with total area of ​​271 sq. km, and three exploration permit on other oil fields with total area of ​​171 2 sq. km. PPC also produces liquefied petroleum gas (LPG) with Novo-Nikolayevsk fields.