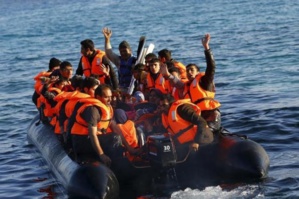 Migrants fleeing from the ISIS held territories travelled by land as well as by water ways. However, most who sought the marine root "made their way on the Aegean Sea to Greece's islands from Turkey". Once the inflow of migrants reached Greece by sea route, many among them moved on to "wealthier western Europe".
In the year of 2015, over a "million refugees and migrants", manoeuvred their ways into Europe seeking for sanctuary. The said number has been almost "five times more" in comparison to the previous year's figures, informed the refugee agency of the United Nations.
Moreover, the reports show that fifty percent of "1,000,573 men, women and children" refugees who undertook the "perilous journey" fled from "war-torn Syria". In fact, a statement issued by the "United Nations High Commissioner for Refugees agency" claimed that nearly a fifth of them are Afghans.
In the month of September 2015, a photograph featuring a three old Syrian boy along with his family drowned in the sea in an attempt to "reach Greece", was abuzz throughout the world, whereby urging "sympathy and outrage over the refugee crisis". It is believed a total of roughly "4,000 people" have drowned in the sea before they could make it to the shore.
Furthermore, some of the migrants seeking sea route to escape also took to the "Mediterranean Sea" that separates "North Africa and the Middle East from Europe". The United Nations announced that after the World War Two, this is the "biggest migration crisis" that Europe is facing.
The war at Syria clubbed with "other long-term conflicts" is likely to displace over sixty million people on a worldwide scale. According to UNHCR:
"The figure (of migrants) in 2015 represents nearly five times the sea arrivals to Europe in 2014, recorded at roughly 216,000".
This large scale migration puts a significant emphasis on the issues that are forcing people "to flee in dangerous ways", while Adrian Edwards, a UNHCR's spokesman, stated:
"There are abundant regular, safe and legal means of managing this, and they need serious looking at".
References:
http://www.dnaindia.com/