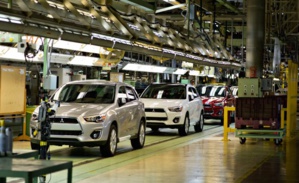 Against the background of lower prices for gasoline and rising consumer confidence in US, car sales in August reached the highest level in the last ten years, with the American brands sold better than usually popular Japanese. Over the past month, the US has sold 1.58 million vehicles, that is, 17.8 million vehicles seasonally adjusted on the annual basis.

According to the leading US independent research firm Autodata Corp, last August, vehicle sales in the US reached a record high, helped by lower gasoline prices, buying interest in crossovers, SUVs and pickups, as well as strengthening consumer confidence. In August, the US has sold 1.58 million cars. The annualized seasonally adjusted figure is 17.8 million. This is the highest figure since the summer of 2005.

The experts were surprised with both American and Japanese producers. Sales of US companies were higher, in some cases - well above the forecasts. And sales of Japanese models, which usually are more popular in the United States, were lower than forecasted. For example, sales of Ford vehicles in the US rose in August by 5.6% (233,880 vehicles sold), while experts predicted a drop of 0.2%. Ford SUVs and crossovers were bestsellers, whose sales rose in August by 12%.

Although experts predicted drop in sales of Fiat Chrysler 1.2%, they rose by 1.7%, and it is the 65th consecutive month of growth. Jeep and Ram brands were desirable the most. Fiat Chrysler sold 201,672 vehicle in August. Sales of the largest US car manufacturer General Motors in August fell slightly, but not as much as predicted by experts. The drop was 0.7% (270,480 vehicles sold) with forecasts of 2.6%.

Given the increased consumer demand for SUVs, pickups and crossovers, Japanese manufacturers were in August, not at their best, as they focused on other cars. Toyota Motor Sales in August fell by 9%, Honda Motor - on 6,9%, Nissan Motor - by 0.8%.