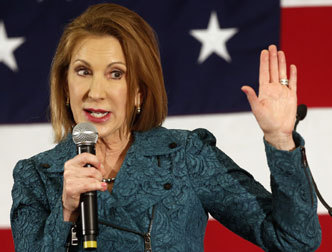 AP Photo/Jim Cole
Former executive director of the US technology company Hewlett-Packard (HP) Carly Fiorina has officially announced her intention to run for US president from the Republican Party, Reuters reported.

- Yes, I am announcing my candidacy for the presidency. I think I'm better than the others go up to the job, because I understand how the economy actually runs, - she said during the program Good Morning America on channel ABC News.

Earlier, The Wall Street Journal reported that Fiorina announced the entry into the struggle for the presidential nomination of the Republican Party on May 4th.

Fiorina, 60 years old, has been HP's executive director in 1999-2005, under her leadership, HP has become the largest computer manufacturer in the world after the merger with Compaq. She retired from HP after the dismissal of tens of thousands of employees and a sharp fall in share prices. Before that, Fiorina had worked in companies AT & T and Lucent.

Fiorina's political career has evolved unsuccessfully so far: after working in the presidential campaign of John McCain in 2008, she unsuccessfully ran for senator from California, spending on the campaign of more than 6 million dollars of her own money.

Fiorina has a conservative social positions: against abortion and gay marriage, for traditional family values. In politics, she supports the simplification of the tax system and the use of the achievements of business in government institutions.

To date, the struggle for the GOP nomination already entered Senators Ted Cruz, Marco Rubio and Rand Paul. The strongest candidates for the Republican primaries are considered the son and brother of former presidents, former Florida Governor Jeb Bush, as well as the acting governor of Wisconsin, Scott Walker. Neither Bush nor Walker has not yet announced the participation in the presidential race.

Former US neurosurgeon Ben Carson, Republican, also stated his intention to run for the presidency in 2016 in the United States.

- I want to be part of the equation, so I announce my nomination for the presidency of the United States - USA Today cites Carson, who made such a statement on the air of Florida TV.

Carson officially entered the presidential race on Monday at an event in Detroit Michigan, where he was born. Carson is widely known as the first surgeon who led the successful operation to separate Siamese twins' neck in 1987. In 2008, President George W. Bush awarded Carson the Presidential Medal of Freedom.

United States presidential election held in November 2016, the acting president, Democrat Barack Obama cannot run for a third term by law.