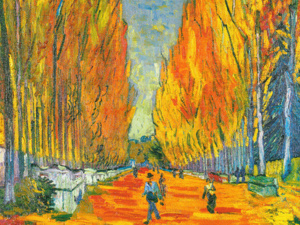 Van Gogh's landscape " L'allée Des Alyscamps " became the most expensive lot of trading, reaching a level of $ 66.3 million at the upper boundary of the estimate of $ 40 million. The picture was bought by a collector from Asia, whose name was not disclosed.
The last time the work of Van Gogh appear at auction in 2003 and went for just $ 12 million. The most expensive painting by Van Gogh is "Portrait of Dr. Gachet", who retired at the auction in 1990 for a record for that time amount of $ 82.5 million.
The second place was occupied at the current bid "
Nymphéas " (1905) by Claude Monet; an unknown collector bought it for $ 54 million. Late Paintings of the one of the founders of Impressionism are rarely shown at auctions, seldom leaving private collections.
Other works by Monet - "
Bassin Aux Nymphéas, Les Rosiers " and " Le Palais Ducal " - went for $ 20.4 million and $ 23 million respectively.
Picasso's 1948 portrait of Françoise Gilot, "Femme Au Chignon Dans Un Fauteuil,"
from the collection of the legendary Hollywood producer Samuel Goldwyn went under the hammer for $ 29 million.
Of the 64 lots in the auction, 50 are sold - not bad, considering that many collectors are now at the opening of the Venice Biennale of Contemporary Art.
We often hear the advice that works of art are the best investment.
Yet they should be treated with caution in difficult times of crisis - you can always buy a painting but that's not easy to sell it.
And good going at the auction does not necessarily mean a higher demand.
The largest auction houses abandoned the practice of giving their own warranties to the top lots after the 2008 crisis (if the item is not sold, the auction house was obliged to purchase it on its minimum acceptable price).
Now, "the guarantee of third parties" is in the course: usually a group of art dealers or collectors who are willing to buy product at the lowest price.
If you traded for the lot and it takes more - "third parties" share the profit with the seller or the auction house (depends on what they agreed on).
The auction house loses in this part of the income - but receives a guaranteed high sales, applause, admiration of critics and market analysts, and is secured by an ignominious defeat.
Because you cannot put in the catalog the estimate of $ 100 million - and do not get at least them.

source: nytimes.com