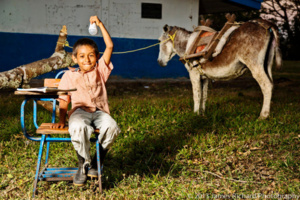 Viridian Energy
, a leading provider of renewable energy, announced that it has completed a major milestone towards global sustenance initiative aptly named "
7 continents in 7 years
". It has completed the fifth project of its acclaimed initiative. Starting from 2011, Viridian has made consistent progress toward its initiative, and has completed a major CSR project in different continents each year.
From re-foresting portions of the Amazon in Brazil, to installing solar power devices in homes, schools and communities in Fiji, Ghana and Indonesia Viridian Energy has contributed substantially towards its corporate social responsibility. This year too, Viridian employees along with 36 Independent Associates have brightened the lives of 40 families. This hilltop community live in remote regions, where electricity had never set its foot.
"It's humbling to be reminded of the difference solar power can make in remote areas. Our '7 Continents in 7 Years' initiative was created to perpetuate and advance Viridian's goal of creating a path to a more sustainable world. As our fifth project, completed in our fifth year of operation, the work in Portrero Platanal represents our most ambitious project to date, as well as a significant milestone for Viridian. I was personally proud to be a part of this installation as it serves as further proof of Viridian's holistic efforts to fulfill our obligation as a responsible, global, corporate citizen," said the CEO and founder of Viridian Energy, Michal Fallquist.

Viridian achieved this incredible task with the help of GRID Alternatives, a NPO that specializes in providing off-grid solar power to rural communities in Nicaragua. Viridians volunteers had to go through a specially prepared training program designed to teach them the nitty-gritties of installing custom designed off-grid PV systems. These standalone solar powered systems are designed keeping an average family's electricity requirements in mind. They can easily power lamps, television sets and cellphones. Once they are installed they will typically last for 15-20 years.

These off-grid PV systems were hand assembled by Viridian's "Voluntourists" at a nearby school, which itself was lit by solar power in 2013 by Viridian. Once these kits are assembled, they are then transported on horseback to remote regions scattered across the mountainous landscape.
For the Viridian's voluntourists, it was a very soul nurturing experience.
"It's humbling to be reminded of the difference solar power can make in remote areas. For the first time, these families saw a light bulb come on inside their home, plugged in their first appliance, read a book by lamplight, and we were privileged to help make that happen and experience these moments with them. We believe renewable energy needs to be the foundation for the world's energy supply and we are proud to be part of Viridian Energy as it helps to make that change," said Edward Kenny, a voluntourists.
But this is not all of Viridian's corporate social responsibility. It is also a monthly host for sustainable events in the entire US wherever it has a market. As part of its local change initiative, Viridian Energy Associates have planted trees, have involved themselves in cleanups and to date they have logged more than 8,000 hours, collecting more than 66,000 pounds (29,937 kg) of garbage.
References:
http://www.businesswire.com/news/home/20150326005966/en#.VRv_PvyUe3A