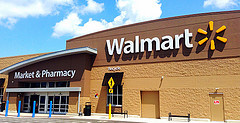 Chinese online retailer Alibaba and US-based department store chain Walmart have announced a partnership to allow Walmart customers in China to make store purchases using Alipay Wallet, Alibaba's mobile payment service.

The customers at Walmart stores in China will get cash back of up to RMB 15 ($2.42) on their purchases for the next month if they pay through Alipay. Alibaba said in a statement that the company will "explore further collaborations with the supermarket chain."

Alibaba is one of the biggest competitors for Walmart and their mutual relationship usually denotes the competition between typical brick and mortar companies and the online rivals. Alibaba is one of the biggest online retailing portal in the world and has also risen to be one of the most valuable tech companies on earth. Analysts predict that the tough business history in China for Walmart is the reason behind this unusual partnership. The company operates about 400 stores in China, as well as an online grocery store called Yihaodian.

Meanwhile, more retailers are adopting mobile payment systems and testing them in new and developing markets. Both retailers and tech companies are trying to make it easier for consumers to use their phones to pay for things inside stores. Mobile payment transactions will soar to $721 billion with more than 450 million users by 2017, according to a report by Gartner. In China, Alibaba's Alipay Wallet has more than 270 million active users across 40,000 retail stores in China.


Even while Walmart is pushing for mobile payment in China, the company has been against the adoption in its home country of US, where many retailers quickly began accepting Apple Pay. Walmart still refuses to accept payment through Apple's iPhones in favor of holding onto a mobile payment application it announced more than three years ago forged by a dwindling partnership of dozens of retailers. The company believes that this would avoid the fees charged by credit card and mobile payments companies.

Walmart also is testing a new unlimited shipping service for online shoppers this summer that will be priced below Amazon's $99 per year Prime service, The Information reported. The subscription service will cost only $50 for a year and the company expects to ship the products in three days or less. Wal-Mart already offers a grocery delivery and pickup service in five markets. This move signals that Walmart is willing to move to online market as well.

The service will be available by invitation only for now and it will offer more than one million top-selling items, from toys to electronic gadgets. Wal-Mart's online site sells more than seven million products. For now, the service would not offer features like free video and music streaming that Amazon provides.