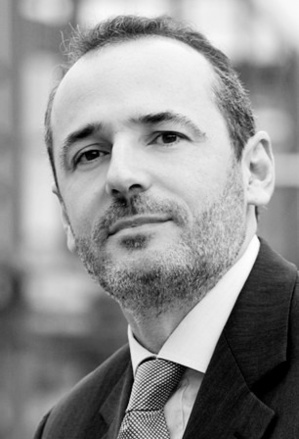 Thomas Savare, the President of French rugby club Stade Francais
Thomas Savare is better known in business circles. A graduate of Ecole Centrale de Paris – an internationally renowned engineering school - he began his career in 1992 at the Banknote Corporation of America of New York, where he served as Vice-President. However, Savare has built most of his career in the French company Oberthur Fiduciaire, which he joined in 2008, and later appointed CEO of this leading private security printer specialized in banknotes.

Savare not only took over the family business, but also his father's passion for rugby, although he always makes a very clear distinction between the two. Prior to his appointment as president of the club, Thomas commented as follows: "I assume the presidency, but my job is Oberthur".

Contrary to his initially somewhat distant position, Thomas hit the ground running. Before that, in the 2010/11 season, the Parisians were faced with serious financial difficulties. Later that year Max Guazzini, the emblematic and eccentric president of Stade Francais, gave the helm to Thomas Savare.

Obviously, Thomas Savare has a good grip - perhaps this may explain the willpower with which he undertook the rescue of his favorite team. At this time, the club was on the verge of relegation. The new doctor made a vital injection to the seriously ill patient - a cash infusion totaling approximately € 30m.

In addition to significant investments, Savare brought new customs to the Stade Francais. Now the club is much more attentive to responsible management, like in the acquisition of new players - and a key factor here is not only the price of a contract, but also the player's ethics. Savare believes that the team spirit and commitment to the cause play a key role - not only in business - but in sport, too. In an interview with French Entreprises et Decideurs he notes:

- The crucial issue is to preserve mutual trust, cohesion, a feeling of shared adventure and even a sense of the epic... The role of leadership and management is paramount to achieve this. Fortunately, in the Stade Francais and within Oberthur Fiduciaire, we are greatly helped by the history and strong identity of these structures. Within one or the other, everyone has the feeling of being the custodian of a prestigious tradition. It's a huge advantage that I strive to preserve.

Stade Francais was touched by Thomas' entrepreneurial spirit. It is hardly surprising - in his own words, sport and business go almost hand-in-hand:

- In my view, the growing interest business leaders have in sport reflects the shared fundamental values that we use to fulfill our professional responsibilities. With globalization, the economic environment has considerably hardened. And when competitiveness becomes a condition for survival, it is natural to also be interested in sport competitions that offer an interesting counterpoint! So the analogies between the sporting and economic world have greatly strengthened. Sport offers models for the challenges that businesses are faced with.

Here he is - Thomas Savare, pragmatic and single-minded. However, there is passion hiding behind the professionalism and dedication to the business. If we look closer, it is that driving force, which helped him successfully lead the family business for several years, and which once saved Stade Francais:

- In business, just like in sport, nothing great can be accomplished without passion. Philippe Sella, former captain of the XV of France, once said that "what distinguishes a world champion, is not the game or technique, but mental engagement". Nothing is truer! … That's why good managers are, above all, those who manage to maintain their teammates or employees in the desire to move forward, create and win. And Thomas Savare did the job: last year, his club won its 14th national championship.