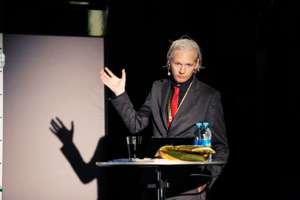 New Media Days / Peter Erichsen
Tuesday, February 23, WikiLeaks announced publication of secret documents about National Security Agency (NSA)'s eavesdropping on US world leaders. According to the portal, the NSA bugged German Chancellor Angela Merkel, the UN Secretary General Ban Ki-moon, Israeli Prime Minister Benjamin Netanyahu, former Prime Minister of Italy Silvio Berlusconi, as well as former French President Nicolas Sarkozy.

The documents contain details of a conversation of Ban Ki-moon and the Chancellor Angela Merkel about the fight against climate change, WikiLeaks reports. The media also said that Netanyahu asked Berlusconi to help him to establish contact with US President Barack Obama, and Sarkozy discussed with Berlusconi the poor state of the Italian economy.

Previously, WikiLeaks reported that the US NSA surveillance followed not only German Chancellor Angela Merkel, but also for her predecessors Helmut Kohl and Gerhard Schroeder. Thus, the leading German politicians have been subjected to espionage for several decades.

Meanwhile, Swedish lawyers of WikiLeaks founder Assange are demanding the cancellation of the arrest warrant. In the argument, they are basing on the UN working group's decision of the illegal detention of their client, according to Swedish news agency TT.

The lawyers sent a letter requesting a review of the warrant to the District Court of Stockholm, the Swedish Agency writes.

In early February 2016, the UN special working group ruled in favor of Julian Assange and recognized the deprivation of liberty illegal.

Prosecutors in Sweden consider that the decision of the UN Working Group on illegal deprivation of liberty has no formal significance in the investigation of Assange suspected of rape in Sweden.

Assange was arrested in London in December 2010 at the request of the Swedish law enforcement officials, who insisted on his extradition to Sweden. Recall that in the summer of 2010, Sweden authorities began investigations at the request of two women about sexual harassment commited by Assange. WikiLeaks founder has been sheltering in the Ecuadorian embassy in London since 2012 - when he turned to the Ecuadorian authorities for political asylum for fear of extradition by the Swedish authorities in the United States in connection with his activities in WikiLeaks.