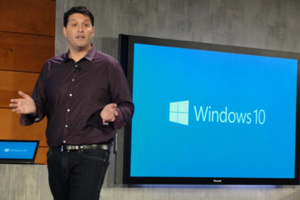 Photo: Glenn Chapman / AFP
The last 14 years, new Windows usually come in October-November, but this time the company has decided not to wait until autumn. Updating the system for the first time will be free for owners of Windows 7 and Windows 8 for a year after the release of the new system. Price Windows 10 has not yet been announced.
Microsoft dominated the PC market until the emerging of mass market tablets - Apple iPad and Android-devices. Windows 10 will be the second Microsoft's attempt to release a system that both owners of computers and tablets would like. Released in 2012 Windows 8 had not taken any major positions on the tablet market. Among the new features of Windows 10 is Hello authorization system without passwords - instead, Microsoft wants to use face recognition and fingerprint, voice control system Cortana, and the new browser, which is written "from scratch" to replace the unpopular Internet Explorer.
Previously, Windows users usually had to pay for the operating system upgrade. Traditionally, installing the new version could be free only on the most new computers that have been purchased no more than six months before the release of the new system. However, this time, Microsoft took a leaf from competing systems, Google Android and Apple MacOS - now the new system can be installed for free on computers with Windows 7 and Windows 8.
Microsoft is also testing the ability to install Windows 10 on Android-smartphone, Myerson said. Now the company has launched a test program with the world's fifth largest producer of smartphones, Chinese Xiaomi, in which some active users can install Windows 10 on the company's flagship smartphone Xiaomi Mi 4.
Microsoft traditionally releases its new operating system in the fall. So, Windows XP was released in October 2001, Windows Vista - in November 2006, Windows 7 - in October 2009, and Windows 8 - in October 2012. However, in recent years the most popular on the market trends of Apple come in fall - especially new iPhone, which goes on sale in September and October and queues in shops are traditionally behind them all around the world. November-December is the peak in sales before Christmas, and in 2014, Apple occurred to be the best prepared - according to Gartner research, it has become the world's largest smartphone maker in the IV quarter of 2014.
Source:
bit-tech
.net