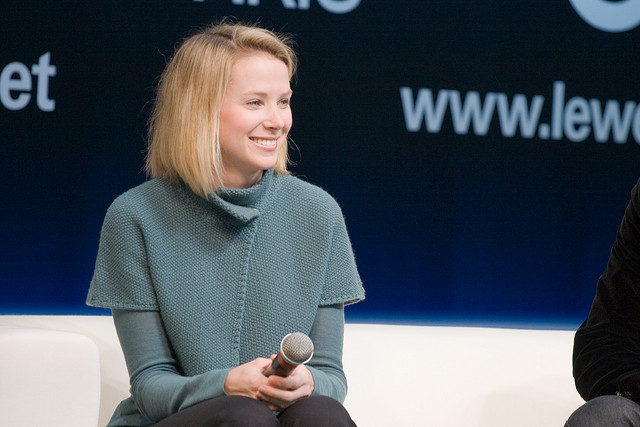 American technology company Yahoo has missed its earnings and revenue forecasts for the first quarter, putting the company's investors in huge disappointment.

Yahoo's reported adjusted earnings of 15 cents a share is down 61% from the year-ago quarter. That missed forecasts calling for a profit of 18 cents a share. Adjusted revenue also fell 4% to $1.04 billion. Adjusted revenue excludes traffic acquisition costs, or payments made to other firms to direct traffic to them. The company posted net income of $21 million, or 2 cents a share, down sharply from the $312 million, or 29 cents a share, last year this quarter.


With the investors wallowing in lackluster quarter reports, Yahoo CEO Marissa Mayer has announced that the company is actively looking at offloading its stake in Yahoo Japan to unlock some value.

The company has lost a huge chunk of its operation revenue thanks to high traffic acquisition costs which jumped nearly 300% to $183.1 million. The first-quarter results are a setback to already low expectations as 2015 is expected to be another year of brand rebuilding for the company as it tries to become more relevant in today's internet service world. In the first quarter, Yahoo cut net employment by 1,100 jobs.

Since Yahoo CEO Marissa Mayer joined the company in 2012, Yahoo's stock has traded more on the value of its investments than on its core business. In January, Mayer announced plans to spin off Yahoo's 15.4 percent stake in Alibaba and now, the company is looking at offloading Yahoo Japan stakes. The company has hired advisers to consider opportunities to maximize value for its stake of about 35 percent in Yahoo Japan Corp., valued at more than $8 billion.

The first quarter results reflect the slow progress made by the company's chief executive in reviving the company and bringing it back to its lost glory, which faded due to the onslaught of new companies including Google and Facebook.

The company is now trying to refocus the company around mobile apps, native ads, video services and the Tumblr social network, while reducing staffing in the company's other divisions, like its traditional web offerings. The company also renewed partnership with Microsoft on search results and advertising, which accounted for 35 percent of Yahoo's revenue last year. The two companies will now continue to work together for five more years, with Yahoo now getting the ability to serve up its own search results and ads for up to 49 percent of queries.