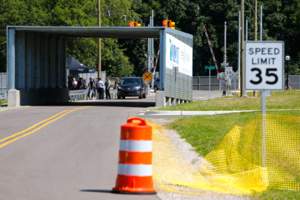 Paul Sancya / AP
Few blocks built on 13 acres are called Mcity and, in fact, are a combination of typical road intersections with all required elements and marking the boundaries of the buildings, but without the monolithic structures.

The city was founded in the summer of 2014 with the aim to create a platform for testing vehicles that could travel safely on the roads in compliance with all requirements of the SDA. Then project participants (representatives of the companies Google, Ford, General Motors and Toyota) have stated that with to the creation of this site, assembly of the first "drone" would begin in 2021.

The overall aim of the researchers is to take 20,000 unmanned cars on the real roads and further expansion in the US and other countries.

Michigan State University is the oldest in the state and one of the largest universities in the United States. In early 2014, the university came in the top five, located in North America.

One of the leaders in the development of unmanned vehicles is Google. So-called Google Cars first appeared on the roads of Nevada in May of 2012. Until the summer of 2015, there were 12 accidents involving self-machines, including one with victims.