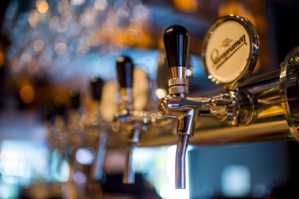 Anheuser-Busch InBev hiked up its bid by "$100 billion-plus" for buying its "rival brewer SABMiller". However, Brexit has caused the interest of investors on the said offer to shrink, which threatens "to derail the deal".
Both the companies' chairman engaged themselves in a talk in light of the "exchange rate volatility and market movements", while the "new terms" were left untouched. The largest brewer of the world is likely to offer "45 pounds a share for its nearest rival".
Reuters also reports that:
"It also tweaked the terms of an alternative share-and-cash structure designed for SABMiller's two largest shareholders, raising the cash element by 88 pence a share".
The offer holds SABMiller approximately at "79 billion pounds", while originally the company was valued at "70 billion pounds" as per the "exchange rates at the time". Aberdeen Asset Management has "a 1.17 percent" of SABMiller's stake informs "Thomson Reuters data". Even though, the offer "was still unacceptable" even after the revision, analysts think that the deal still may be cracked now.
However, on AB InBev's part the revised terms seemed to be final and as per the British law, the price has been set. The only possible change may occur, in case, AB InBev drops the offer andtakes up another after six months. In the words of Liberum's analyst, Alicia Forry:
"The main thing from ABI's perspective is they don't want this to drag and if they engaged (activists) it would".
While, Reuters informs that the analyst at "Bernstein Research brewing", Trevor Stirling, stated:
"SABMiller's shares would probably drop to 41.50 pounds if AB InBev's takeover bid failed, adding that for AB InBev, an extra $2 billion was only a modest deterioration of a deal that made strategic sense by adding attractive African and Latin American markets".
The changes were made after many active investors like "Elliott Capital Advisors and TCI Fund Management", bought SABMiller's stakes. Amid the crumbling cash offer following the referendum vote, AB InBev exhibits"35 percent" higher shares, while SABMiller's shareholder informed Reuters:
"I wouldn't like to second guess what the activists were hoping for, but the increase is quite modest".
References:
http://www.reuters.com/