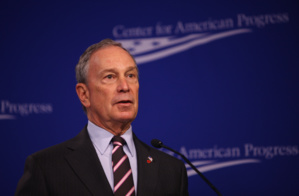 Ralph Alswang
Michael Bloomberg took the 14th place among the world's richest and eighth among the 400 richest Americans, both according to Forbes. The businessman's state is estimated at $ 36.4 billion on Jan. 27, 2016. The creator of his own media empire, he has dabbled in politics having been mayor of New York for 12 years.

Michael Bloomberg was born into a Jewish family in Boston, capital of Massachusetts, and grew up in Medford, the small and quiet town nearby. His father, William Henry Bloomberg, was the son of immigrants from Russia, and his grandfather taught Hebrew. William's wife Charlotte was a native of New Jersey, and came from an immigrant family, too: her father was born in a Belarusian village, and his mother descended from Lithuanian Jews.

Michael's father worked as an accountant at a local dairy farm; his mother was a secretary. The family lived comfortably yet modestly. Charlotte Bloomberg recalled that Michael was a typical teenager: did not wipe their feet coming home, ignored constant remarks of mother, sister, was afraid of snakes and naughty at school, writes Joyce Purnick in her book about the businessman. The young man did not have a strong preference to either sport or learning. At that, he showed remarkable persistence and seriousness - qualities that helped him to get sign of highest Scouts distinction - the "Eagle Scout" badge. To earn this award, it was necessary to show not only leadership, but also capacity for planning and management. "He took on everything that came to hand - recalls Charlotte Bloomberg - wanted to manage all processes and everyone."

Friends remember Charlotte Bloomberg, a strong and self-confident woman who puts all her energies in Michael, her firstborn. Even as an adult, Michael often thought of her mother, her advice and wisdom, almost never mentioning his father.

From province to Harvard

Medford, the quiet town with clean streets, unpretentious houses and abundant greenery along the roads, had no room for innate managers. "Medford was nice city, but I wanted to get away from there, - quotes Purnick a local native and Bloomberg's friend Paul Theroux. - It seemed to me that life there is living death… It was still possible to live there as a child, but staying would be a fatal decision."

By high school, Bloomberg realized that he wanted to leave. "Michael was always aware that he wanted to go not even to Boston but New York, - remembered his friend from school, Dorothy Sherman Berman. - I remember he told me about importance of being successful, his desire to succeed, because, he said, if a person has a lot of money, he can change the world for the better. I'll never forget it."

In 1960, Michael Bloomberg graduated from high school and enrolled as an engineer in the Johns Hopkins University in Baltimore. Later, in his memoirs, Bloomberg recalled his violent temper during college "fraternity in Hopkins differed little from those in the now classic film "Animal House" with John Belushi. Although Hopkins was a serious institution, very competitive from the educational point of view, we drank a lot and hang out." Bloomberg was the first Jew - a member of a fraternity Phi Kappa Psi and eventually was elected its chairman, which did not prevent him from working alongside his studies at the University Club's parking. This way, the future businessman paid for his studies. "I wasn't bright enough to get a scholarship," - says Bloomberg. The young man had to take out loans for education. Bloomberg's classmate John Galotto recalled that Michael was addicted to success: "He tried to convince everyone that everything still comes naturally to him, but he often could be seen carrying a stack of papers from the computer class. Already then, he told friends that he will become the first US president-Jew."

After university, Bloomberg took on Harvard Business School. "I am sure that now they are grateful for that the head of the selection committee then decided to take me in," - said Bloomberg, hinting to his generous donations to the school.

First Million

After Harvard, Bloomberg was interviewed in several first tier brokerage firms, but eventually ended up in a small company Salomon Brothers.

While waiting for an interview there, Michael was talking with a young man introduced himself as Billy, who was friendly and courteous. It later occurred that was William Salomon, managing partner of the firm and son of one of the three of its founders. When time to choose came, Goldman Sachs offered more than Salomon. However, Bloomberg decided that being on close terms with his potential chief is more important.

Thanks to the energy and enthusiasm, Bloomberg immediately fit into Salomon's team. He was the first Harvard graduate in the company, and immediately took a special position there. "Mike gave the impression of a proud, educated, yet cunning guy, he always had all the answers" - recalled one of the former members of Salomon's executive committee.

In 1973, Bloomberg was appointed head of the Securities Department - after seven years of work at Salomon, he became a partner and a millionaire, at least on paper.

Quitting and own business

Bloomberg's rapid rise alerted his detractors. One of them, Richard Rosenthal, one of the most successful arbitration specialists at Salomon with the eight-grade education, climbed the ladder higher and used his position to hook in the upstart. In 1979, Rosenthal became a member of the executive board of the company and offset Bloomberg to the Technologies Department.

Bloomberg did not give up and decided to capitalize on the new appointment. He realized computers's potential in finances and used his engineering experience to expand scope of their application in the company. Bloomberg used the computers to build models that provided Salomon with competitive advantage. Nevertheless, time-honored Salomon employees saw a threat in Bloomberg's face. He sought to move to more advanced desktop computers, to renounce aging bulky IBM machines, which were handy for the technical authorities. He claimed that Salomon throws a lot of money on inefficient technologies. As a result, Bloomberg, who now devotes much attention to the climate in the team, damaged relations with many of his partners. "I stressed very actively that we are going in the wrong direction", - says Bloomberg. That is why, when the firm acquired a trading company Phibro (then ranked in the top 15 largest US corporations) in 1981, , Michael was offered dismissal with redundancy payment of $ 10 million. He was among the five partners that have decided to leave. Bloomberg's friend Morris Offit says that Michael could likely sought such an outcome. "He created a foundation for new business at Salomon, yet no one in the company had the insight and foresight to realize this", - says Offit.

Once fired from Salomon Brothers, Bloomberg founded Innovative Market Systems along with three partners. It was necessary to find a service not available on the market at the moment, he recalled. Bloomberg decided that this service would be collection of securities' data and development of software that would give help customers analyze the information provided. In turned out that the market desperately needed these instruments. That is how the first version of Bloomberg's terminal materialized. The company rented the machines for $ 1 thousand per month.

In 1982, the company's first major customer became Merrill Lynch, which installed 22 terminals and invested $ 30 million in the startup. In 1986, the company was renamed Bloomberg LP, and by 1988, it had 5 thousand terminals under its belt. In five years, Bloomberg launched more programs, including the trading platform Bloomberg Tradebook, Bloomberg Messaging Service and Bloomberg Newswire. Bloomberg Terminal radically changed rules of the financial world's game. He made a revolution comparable to the one that Microsoft made in computers, and Google - in the web search.

From business to power

Wall Street hated Bloomberg for several reasons. His rule not to sell but rent the machines provided him with a lot of power, alarmed many. He never agreed on prices, even when making large transactions. Such tactics soon cemented the status of premium goods, making the terminal essential for anyone working in the financial world.

Following the delivery of terminals, Bloomberg began providing consulting services to clients such as Merrill Lynch, upgrading their computer systems. Over time, he became a media mogul, adding to his business empire news service, radio, TV, as well as a monthly magazine. In 1992, a decade after the company's founding, number of subscriptions on Bloomberg reached 10 thousand. The businessman's name appeared in the list of 400 richest people by Forbes. By 1995, Bloomberg has turned from millionaire to billionaire. Now Bloomberg's number of subscribers accounts to 325 thousand. Staff of the company, represented by 150 informational offices in 73 countries, is 15.5 thousand people.

In 2001, Bloomberg has decided to run for the elections of the mayor of New York. According to him, he wanted to try a new business. "I managed the business 20 years, it's time to move on", - he said. According to friends, Bloomberg got bored by business. In addition, the entrepreneur always liked to take risks. At the end of 1997, four years before the next mayor election, he began to think about the prospects of promotion to the post. He had enough confidence and money to finance his campaign.

He stopped his political activities because his personal rating assessed this position the fourth - after the US President, the UN Secretary General and heads of the World Bank. When the mayor of New York goes abroad, he is certainly not received as a head of state, but all media cover these trips and any government will take the New York mayor, argued Bloomberg then. A few months before the vote, he moved into the Republicans camp. As a result, Bloomberg won - thanks largely to the support of his megapopular predecessor Rudolph Giuliani. Ratings soared after the attacks on September 11, 2001. The campaign cost the businessman $ 74 million - a record sum for those times. Bloomberg was re-elected twice, having worked as mayor of New York until the end of 2013, and then went back in business, starting with shakeups and layoffs at Bloomberg News.