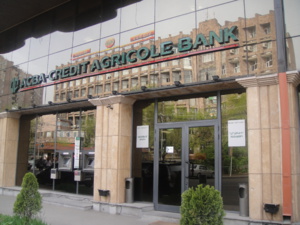 Aschotmar
Today it became known that the French bank Credit Agricole this week could announce an agreement with US authorities to pay them large fines for violating sanctions against Iran, Sudan and Cuba. According to sources of AFP and Reuters, the fine could reach $ 787 million. It is reported that from 2003 to 2008, using the US financial system, Credit Agricole has translated several billion dollars to entities associated with Iran, Sudan and Cuba. AFP and Reuters's sources reported that some bank employees, who were directly involved in these transactions, have already left the company. The bank will pay the penalty under the agreement, but will not admit guilt.

The agreement must be signed with the US Treasury, the Federal Reserve and the Financial Services Market Control Office of New York. In August, the French bank reported that it set aside $ 350 million for legal costs associated with the investigation of violations of the sanctions regime.

Last summer, another French bank, BNP Paribas, paid a fine $ 8.9 billion to US authorities. BNP Paribas has pleaded guilty in violation of the sanctions imposed against Iran, Sudan and Cuba. In addition, the fine part of the agreement was also a temporary partial ban on transactions in dollars.

Among other European banks against which the US authorities are investigating for violation of the sanctions regime - the German Deutsche Bank, French Societe Generale and Italian UniCredit. They have already said they are cooperating with the investigation. According to US media sources, these banks can reach an agreement with the US authorities in the next year.