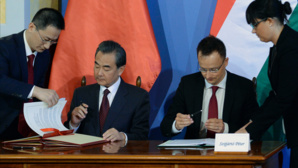 A major part of China's new status as a world superpower, has been solidified by its business strength. China is now the world's biggest exporter, in more sectors than most other developed countries. One of the new plans, out of the Chinese government's business initiative, has been to reintroduce the once-famed Silk Road trade, in modern times.

The new "Silk Road" initiative involves proposals to develop trade and transport infrastructure across Asia, Europe and beyond.

The Chinese foreign ministry announced on Saturday, that Hungary has now become the first European nation to join the Silk Road cooperation agreement. Both the Chinese and the Hungarian governments have now signed a memorandum of understanding to develop trade and transport projects under the Silk Road initiative. This undertaking by the two nations has been formally dubbed as the "One Belt, One Road" project in Budapest, according to the statement on the Chinese foreign ministry website.

The agreement was signed by Hungarian foreign minister Peter Szijjarto and his Chinese counterpart Wang Yi; in Budapest, the capital of Hungary. The Hungarian government has expressed interest in acting as the regional hub for Chinese trade in Europe. China has been promoting for better trade relations, between European nations and the east, for quite some time now.

According to a separate statement issued by Wang Yi, China's foreign minister, China welcomes more European nations, to collaborate with the East. The government also encourages, strong cooperation between China and other Asian countries. Participation in the "One Belt, One Road" in various ways, would certainly boost international trade and growth, for the better.

China hopes that, Hungary being the first European country, to sign on the Chinese Belt and Road proposal, would encourage more European nations, to join in the initiative. The Silk Road plan hopes to connect China to Central Asia, Europe, and Russia. China has repeatedly highlighted the importance of Europe in developing international trade especially central and eastern European nations.

President Xi Jinping had stated earlier, that he hoped international trade would surpass $2.3 trillion annually, within a decade, between countries involved in Beijing's proposal, of a modern Silk Road. Hungary's President Janos Ader, as quoted by the Chinese foreign ministry, has hoped to cooperate closely with China especially to develop the Hungarian-Serbian railway project and other large scale infrastructure projects.

The major high speed railroad project of 230 miles connecting Budapest to the Serbian capital of Belgrade is said to be the focus of the Chinese-Hungarian cooperation accord. Recently, both Russia and Belarus have also agreed to an understanding, between China and their respective governments, to be a part of the Belt and Road initiative. The interest of most nations, in this project, is justified by the economics. Most major projects, in several foreign countries, can use Chinese funding and technology for development.

Projects under the Silk Road cooperation plan include a network of oil and gas pipelines, maritime projects, highways, Internet networks, power grids, high speed railways, and other infrastructure links across Central, West and South Asia to as far as Greece, Russia and Oman, increasing China's connections to Europe and Africa.