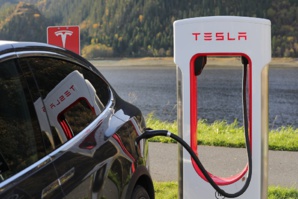 In the coming year Tesla Motors Inc. will make detailed announcement of its plans on rolling out "a ride services program", while the same has been "outlined" in the "master plan" of the chief executive, Elon Musk, which he presented in the month of July, reports Reuters.
The "Tesla Network" news appeared in a disclaimer which dealt with the "self-driving functionality on new Model S vehicles". According to Musk, Tesla is creating "new vehicles" that will be equipped with "necessary hardware" for eventually enabling "full autonomy". Nevertheless, as of now, the said software is not "ready". Here is what the disclaimer stated:
"Please note that using a self-driving Tesla for car sharing and ride hailing for friends and family is fine, but doing so for revenue purposes will only be permissible on the Tesla Network, details of which will be released next year".
In the meantime, the car makers have shown enthusiasm in investing in the "mobility services", probably in the hope of bagging in "trillions of dollars" revenue generated from the sale and the services. As per Brian Johnson, an analyst at Barclays, the network of Tesla has the potential to "excite the market", yet is "was a costly proposition", as he wrote:
"While we think ride-sharing/hailing is the future of mass-market mobility, we have some financial concerns with the idea of an OEM-owned fleet".
Reuters' analysis show that corporate investors and 'venture capitalists' put in almost "$28 billion into the ride services sector" over the past ten years, while Reuters add:
"General Motors has made the biggest bet, investing $500 million in Lyft in January. GM's upcoming electric Chevrolet Bolt was designed expressly with car sharing in mind, executives have told Reuters".
In the part two of Musk's "Master Plan", Tesla owners will be able to pitch in with a car in the "shared Tesla fleet" through a mobile app, whereby the owners can create another source of income, thus reducing the cost of owning and maintaining a car.
References:
http://www.reuters.com/