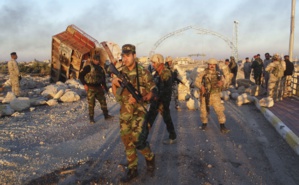 Islamic State has been pushed to "last remaining" land limit under their control in the "city of Ramadi", although Iraqi troops have been slowed by "bombs and booby traps", reported spokesmen from the army.
During the month of May, IS militants captured Ramadi. At present, efforts are being made to seize back what was taken away by the rebels, whereby signifying "one of the most important victories achieved by Iraq's armed forces".
In the cover of the night, the soldiers had advanced into the "Hoz neighbourhood", the house of the "provincial government compound". The latter being a target since an attack started on last Tuesday, reported "joint operations command spokesman", Brigadier Yahya Rasool. In his words:
"The counter-terrorism forces are within 800 meters (0.5 mile) from the government complex," advancing by about 1 km in the past day. Air strikes helped detonate explosive devices and booby-trapped houses, facilitating our advance".
Sami al-Aridhi, the commander of special operation revealed that according to their plan Ramadi was to be liberated from "three sides", whereby adding:
"Our troops are now advancing towards their targets but were delayed because the criminals have booby-trapped everything".
The fertile valley of the river Euphrates, houses the provincial capital of Ramadi, located within a "two hours drive" to the west of Baghdad. The majority of the civilians who are in the Islamic State controlled central district region, have gathered in the hospitals to seek shelter, as army will not make hospitals their target point, informed Rasool.
However, Rassol refrains from providing a definite "time frame" regarding the "final onslaught" for throwing the militants out, he stated:
"The campaign's priority is to avoid casualties among civilians and the troops, no matter how long it takes".
According to the state TV broadcast, featuring "military statement", round hundred twenty families were evacuated "from the combat zone" once "safe routes" were secured, they families were taken to a camp that is located "near Habbaniya, north of Ramadi".
The international coalition headed by the U.S. is proving air support to the "Iraqi government forces". Moreover, Iran is supporting "Shi'ite militia" that "played a major part in other government offensives".
At present, the said regiment has been "kept away from the battlefield in Ramadi" so as to clash with "Sunni Muslim residents", as the city mainly houses them. Ramadi will be "handed over to the local police and to a Sunni tribal force" after being rescued, assured the governemt.
Capturing Ramadi has been IS's "biggest prize of 2015". Once the mission to re-capture Ramadi is successfully executed, the army will be aiming to re-claim the "northern city of Mosul", which is the "biggest population center under Islamic State control in Iraq and Syria". In the words of the "Prime Minister Haider al-Abadi":
"The liberation of dear Mosul will be achieved with the cooperation and unity of all Iraqis after the victory in Ramadi".
References:
http://www.reuters.com/