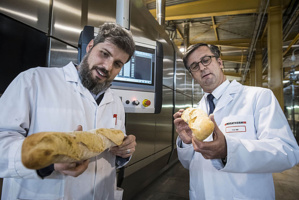 Mecatherm designs and manufactures production line equipment for producers of breads, pastries, and other food products. The French SME, having just completed a merger with Gouet in 2018, has more than 55 years of industry experience.
The company has a presence in all five continents with 90 percent of its sales coming from exports to 70 territories, more than 420 collaborators internationally, headquartered in Paris and a subsidiary in the U.S.
Mecatherm distinguishes itself through the varying levels of services it can provide: With clients new to this industry, the company first offers expertise as an architect in setting up the appropriate installations, and then provides the equipment necessary for production. After almost 800 completed installations, the firm has a depth of knowledge in building product lines under all conditions, ensuring that they meet all technical, environmental and regulatory requirements so its clients can then deliver high quality level products for the consumers. For existing installations, Mecatherm can be involved in a rationalization process in order to make production more efficient and flexible. For its own installations Mecatherm offers upgrades and after-sales services, including training and technical support. Finally, when a client is in a growth phase, Mecatherm can also support it and help it cross thresholds in terms of volume and range variety. Thus, the French company can adapt to the flexibility that the food industry increasingly requires. Benefitting from a rich international portfolio, it can aid with deployment in virtually any market. While the needs of consumers in China may well differ from those in Italy or Saudi Arabia, Mecatherm's expertise is to listen to the specific needs of manufacturers, who in turn can produce goods that are in line with local tastes.
"The world is changing increasingly fast and for a very long time the challenge for manufacturers was to play on their price/quality ratio. […] on one hand manufacturers need high capacity lines for improving delivery time and service yet at the same time to be flexible, developing new lines to be first on the market," Olivier Sergent, president of Mecatherm
said
.
The current offerings in the global 'soft and pastry' industry must adapt constantly with the evolving taste of the consumer, both in terms of quality and variety. Therefore, manufacturers turn to the French company for installations that must be capable of both mass production and customization to offer a wide range of diversified products. This is illustrated by Mecatherm's
award-winning sleek ovens
, which have the flexibility to create numerous products on the same line thanks to the design and the different modes of heating. In fact, 80 percent of the equipment the firm provides is based on its own technical creations and knowledge.
The opportunities for diverse premium product ranges have never been so abundant given the recent explosion in the global middle-class of consumers: supply must be abundant and varied, which requires the manufacturers to place the emphasis on agility, flexibility, and industry know-how.
"Our vision is to be the supplier of reference for the industrial bakery sector worldwide...the one to talk to if you have an installation," Sergent
explained
.
The company has chosen to focus on the specific and evolving needs of its customers by developing its ability to construct tailor-made industrial solutions for its clients. Mecatherm offers the security of well proven solutions combined with the customization of highly modular approach. Thus, bakers have the appropriate facilities to offer recipes designed and deployed, which take into consideration the social and cultural specificities of the target market. Combining this expertise with continuous training, support, and compliance assistance throughout the product lifecycle, Mecatherm provides control of the value chain to its clients that in turn can satisfy the specific and ever-changing consumption habits of local consumers.