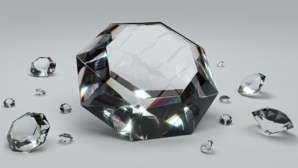 Followed by a "significant" increment in the "impairment of intangible" Stellar Diamond has crossed twice more its "full-year pre-tax loss". However, it information that the company is in the pursuit of "a transformational acquisition", as the Chief Executive of Stellar Diamond, Karl Smithson, stated:
"At the same time maintain exposure to our quality portfolio of diamond assets in West Africa".
From "$3.09m", the pre-tax loss figure rose to "$7.1m", out of which "$4.3m" was booked under "impairment of intangibles". In Smithson's words:
"During the past year we have pursued the key strategy of consolidating our Tongo kimberlite dyke licence with the adjacent Tonguma kimberlite dyke mining licence in order to create an enlarged hard rock mining operation that can offer long-term and sustainable production and revenues".
"In the event of completion of the acquisition of Tonguma, the combined mine would have an initial inferred +1.18mm diamond resource of 4.5 million carats, with diamond values ranging from US$209/ct to US$310/ct, from just three (of eight) kimberlite dykes in the licence areas, all of high grade and high diamond values."
In a demonstration, PEA showed that a mine with the life span of twenty years of production could have an average annual income of "over 200,000 carats" per annum, reported Smithson:
"The acquisition process is ongoing and remains the focus of Stellar (albeit there is no guarantee that it will be completed). In order to focus on the acquisition we undertook to joint venture our Baoulé kimberlite pipe project in Guinea and our Liberian licences to Citigate whilst retaining a free-carried interest in these projects.
"The earn-in allows for Citigate to fully fund both projects but Stellar's existing teams on the ground will manage the projects for the first phase of work and will also receive a management fee for doing so."
References:
http://www.digitallook.com/