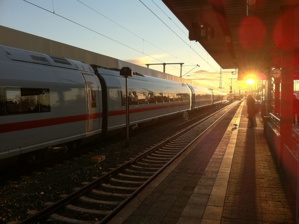 It is very much expected that the finance minister of the United Kingdom, George Osborne, will be accepting Infrastructure Commission's recommendations for building "a high speed rail link" that will connect Leeds to the northern "cities of Manchester". The said project will form part of the commitment made to spend "£300m" in "major transport projects".
However, the other schemes enlisted under the budget which will soon begin are "an 18 mile road tunnel beneath the picturesque Peak District and a north-south London link, known as 'Crossrail 2'" which will connect "the outer London regions of Hertfordshire and Surrey".
The Chairman of Infrastructure Commission, Andrew Adonis has stated in a report that the railway line electrification which will take place between Leeds and Manchester is the "first stage" which will pave the way towards "Britain's third high speed rail link". Consequently, the travel time will cut down first to forty minutes and ultimately the said distance will be possible to cover only in half an hour.
While talking to the BBC, Lord Adonis said:
"This is going to be a phased approach. It's not going to be one big bang like HS2, which is the creation of a completely new line for nothing".
"It will be a mixture of improving the current line and stretches of new line to deliver two objectives: big cuts in journey times between the big northern cities, from Liverpool in the west to Hull in the east, and also big improvements in capacity, so you can have much more regular trains as well as faster trains."
"If the north is to become a powerhouse, it has to be better connected. Leeds and Manchester are just 40 miles apart but there is no quick and easy way to travel between the two. In rush hour, it can take more than two hours by car; by train, it can be almost an hour."
References:
http://www.digitallook.com/