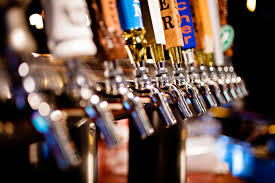 This is a piece of new that would throw any beer lover overboard. And literally so if one happens to try out all the various types of beer now available at the Raleigh Beer Garden in North Carolina in the US - the latest venture by Hibernian owner Niall Hanley.
This craft beer pub now offers 366 varieties of beer, all on draught from individual taps and is open to beer lovers from Tuesday. This, feel local beer lovers, would put North Carolina squarely on the top of the global list for beer. The favorite slogan for the region is likely to be "more beers on tap than any place on earth".
The feat has been made possible due to the presence of an impressive 21 breweries in the region which source the various types of beers at the Raleigh Beer Garden. The move was also encouraged by the success of lots of tap rooms and bottle shops. Spurred on year round by beer centric activities like the Trolley Pub Raleigh, Greater raleigh Beer trail and Beltline Brew Tours, the region is sure to attract world attention as far as beer lovers are concerned.
The popularity of the beer culture in the region can be gauged from the fact that the Courtyard by Marriott Midtown even offers a "Room with a Brew" package in conjunction with local Big Boss Brewing Company. Among all these head over heels for beer, the Raleigh Beer Garden is most likely to become the new face of the city's thirsty tourism industry.
The restaurant,
Beer Garden,
is situated at 614 Glenwood Avenue and has 366 individual beer taps on a three-story, 8,500-square-foot beer and cocktail bar with a rooftop deck and patio seating.
The ground level of the restaurant houses 144 individual beer taps that showcase North Carolina craft beers. There are another 222 more taps of beer from across the country and around the world on the first floor of the building.
And as if the 366 taps of beer were not enough, the three-story Beer Garden also has a Spiritual a high-end cocktail bar featuring locally distilled spirits apart from indoor and outdoor spaces, rooftop deck and patio. Wood from Pecan trees that stood on the bar's site have been used for the tables and many of the bars which gel with the theme of the locality.
Sources said that the Beer Garden is now trying to stir up the Guinness World Record for the most number of beer varieties available in a single place. However it seems that the most recent kid on the beer block of Raleigh Beer Garden in North Carolina would have to undergo some formalities before it can officially be christened the beer capital of the world.
The owner of the Raleigh Beer Garden, Hanley, owns a classic Irish pub in North Raleigh and Cary, a nightclub and restaurant in Glenwood South, a bar and restaurant on Person Street.
(Source: www.forbes.com & www.newsobserver.com)