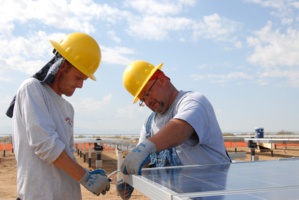 SolarCity Corp installs solar panels, whereby the company is in the process of being acquired by Tesla Motors Inc. The said transaction will cost the latter "$2.6 billion", while the reports state that "$305 million" has been raised for funding the "its projects".
Moreover, the company also informed that one of Quantum Strategic Partners Ltd's affiliated "private investment fund" has invested in the equity, while the advice of the fund came from "Soros Fund Management LLC".
The above mentioned acquisition, as per SolarCity, involves an eighteen year long "loan syndicated to five institutional investors", while Reuters adds:
"The solar company said last month it faced greater-than-usual delays in closing new project financing commitments due to its takeover talks with Tesla".
References:
http://www.reuters.com/