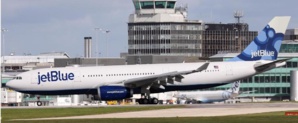 In 1993, The United Nations declared March 20 as World Water Day so as to wake the slumbering world's populace to growing water challenges and encourage inter-dependencies so as to better prepare for a water-constrained future. In order to remind us of the critical need to better manage water resources which is fundamental to life and our ecosystem, this year's theme has been named "Water and Sustainable Development"
Although, water appears to be a seemingly endless resource, with nearly 70% of the planet being covered by it, however, only a tiny fraction of it can be consumed by humans and with our growing population and economic growth, it is critical that, as a resource, water is conserved and efficiently managed.
Water is efficiently in all of JetBlue's operations. For example, a trial was conducted last year wherein the potable water requirement was dropped by over 25% in JetBlue's water tanks in their Airbus 320 (A320) airplane. The typical requirement for such water is the preparation of tea, coffee and lavatory sinks. Before take-off, the A320's tanks would be filled to the brim. JetBlue noticed hat upon arrival, there used to consistently be plenty of unused water.
Following a successful trial in December 2014 wherein the A320's water tank would be filled only up to 75% capacity, resulting in an annual savings of 2.4 million gallons of water, it has now become the norm. An additional benefit to this is that it also benefits fuel costs and its associated emissions through the decrease of plane's weight, which provides an average saving of 288,000 gallons of jet fuel.
JetBlue's commitment to better water manage water resources are not just limited to operational uses only. Vacationing in the Caribbean and in Latin America is a key factor in JetBlue's business model. They understand the reasons why people flock to such destinations. With their clear turquoise water and their paradise on earth like scenarios, these beaches and destinations are a major draw for tourists all over the world. The health of these ecosystems are directly linked the JetBlue's Caribbean operations as well as its profitability. Keeping this in view, JetBlue has supported water and beach conservation efforts in the Caribbean.
By entering into a partnership with
The Ocean Foundation
JetBlue has proven beyond any doubt the economic value of clean beaches. This has been demonstrated by linking the cleanliness of the beaches to the airline's commercial operations – revenue per available seat mile (RASM). Through this the cleanliness of beaches can be seen in
monetary terms
and by doing so JetBlue is promoting the economic importance of shoreline conservation, which is part of their commitment to
the Clinton Global Initiative
.
Jetblue conservation initiatives are not just limited to the beaches of the Caribbean. JetBlue has entered into a partnership with the Surfrider Foundation, a NGO dedicated to protecting the world's beaches and oceans and its waves. With less than one percent of our marine environment having any protected status, JetBlue partnership with the Surfrider Foundation goes a long way towards helping the preservation of coasts and beaches, all over the world. This partnership also promotes cleaning up and recycling initiatives as well as coastal restoration events, all over the world.
Through such partnerships and initiatives, JetBlue wants to rally the efforts of policy makers so as to protect the basic requirements of the tourism industry as well as protect our greatest gift of all – our ecosystem.
References:
http://www.csrwire.com/blog/posts/1546-jetblue-welcomes-world-water-day-by-championing-a-conservation-conversation