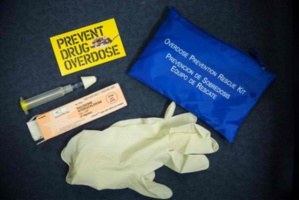 Keeping the increasing usage of heroin overdoses that proves fatal; the White House will be positively strengthening the legal regulation by announcing "a plan pairing law enforcement officials" who will tie up with the workers of public health sector. Moreover, it will be effort to push for spreading appropriate treatment for such addiction as oppose to prosecute the addicts, in forms the Washington Post.
According to two "senior officials", quoted by the said newspaper, the "White House Office of National Drug Control Policy" will be donating a sum of "$2.5 million" in order to initiate the programme which will be effective over fifteen states. Furthermore, the newspaper also mentioned the prime focus of the plan would be to trace the heroin sources which is to be blamed for the "deadly opiate addictive" resulting in the rising number of deaths caused by the consumption of heroin overdoses. In fact, the target source is not the distributers of the drug but the ones who are supplying the same to the dealers.
The plan was designed with urgency, keeping the steep rise in death toll due to the use of heroin particularly in the north-eastern regions and in New England. The initiative that took birth under the sharp reaction demanding the need of the hour, will also be covering these focal points in the country. Reuters reports, echoing the Washington Post:
"Heroin overdose deaths in the United States nearly quadrupled between 2002 and 2013, fueled by lower costs as well as increased abuse of prescription opiate painkillers, U.S. health officials said in July".
The initiation of the White House programme is said to bring together fifteen "drug intelligence officers" and the same number of "health policy analysts", who are to investigate the case. The team will be collecting data "on overdoses and trends in heroin trafficking" whereby ensuring the local laws are enforced through appropriate distribution. In addition, the programme will also carry on a training schedule which will be given to the "first responders" teaching them on the procedures of medication to be followed that can act like an antidote by reversing the heroin overdoses. The Washington Post also quoted a senior official of White House, wherby stating:
"Our approach needs to be broad and inclusive. Law enforcement is only one part of what really needs to be a comprehensive public health, public safety approach."
Moreover, the official also added that the said attempt would help both in
"...reducing crime and reducing the number of people who end up in emergency rooms.
"Heroin is killing people and too often, public health goes one way and law enforcement goes the other".
However, Reuters could not gather any "immediate comment" from the White House at this point.
References:
http://www.reuters.com/article/2015/08/17/us-usa-drugs-heroin-idUSKCN0QM04520150817